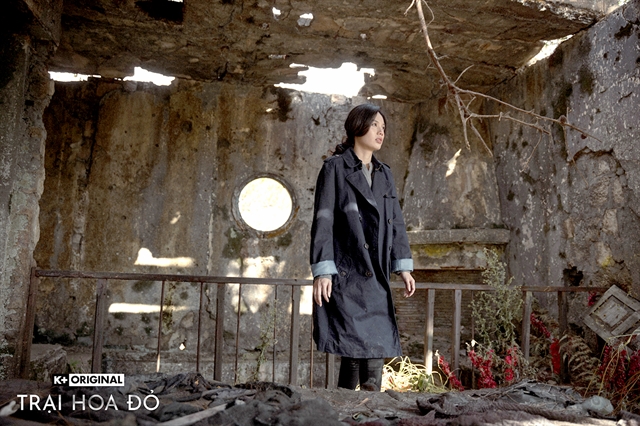 Popular Vietnamese-American director Victor Vũ is filming in the Central Highlands his latest work, Trại Hoa Đỏ (Red Flowers Farm), a TV thriller series produced by K+, a leading satellite digital television channel in Việt Nam. 
Vũ and his 100 crew members have spent two months filming in Lâm Đồng Province, including its capital and largest city, Đà Lạt. 
They will move to famous tourist sites, such as Lạc Dương Lâm Hà and Bảo Lâm districts, next week. 
Trại Hoa Đỏ is based on the novel of the same name by best-selling female writer Di Li (real name Nguyễn Diệu Linh), a pioneer in the Vietnamese detective literature genre in recent years. 
The eight-episode show begins with the deaths of seven young women. The murders occurred at different times and locations. The only thread linking the victims is a taxi which was used by all of them before they died. 
It features fashion model-film actress Trâm Anh and young actors Lê Xuân Tiền and Quốc Huy as lead characters. 
American director of photography Dominic Pereira and Vietnamese-American costume designer Ghia Fam also work on the film.  
American composer-music producer Garrett Crosby is also featured.
"Trại Hoa Đỏ tells what causes some people to have criminal minds," director Vũ said. 
Vũ is a graduate of Loyola Marymount University in the US. He combines Vietnamese and Hollywood styles in his art. 
He began his career in Việt Nam in 2008 after his first film in the country, Chuyện Tình Xa Xứ (Passport to Love), won Favourite Film at the Golden Kite Awards from the Việt Nam Cinematography Association. 
He also worked on prize-winning films such as Thiên Mệnh Anh Hùng (Blood Letter) and Bí Mật Thảm Đỏ (Scandal).  
His kung fu film Blood Letter won the jury prize at the International Film Festival in Hà Nội in 2012. 
Scandal, a work about the dark side of show business, received the Golden Kite Prize for Best Director by the Việt Nam Department of Cinematography in 2013.
His two thriller films, Quả Tim Máu (Vengeful Heart) and Người Bất Tử (The Immortal), were blockbusters in 2014 and 2018.    
In 2020, Vũ's Mắt Biếc (Dreamy Eyes), with themes of youth and love was chosen by the culture ministry to compete in the Best Foreign Language Film Category at the Oscar awards ceremony. 
It was listed among the industry's top 10 hits with more than VNĐ127 billion (US$5.5 million) of sales at the box office.
Vũ's films have been distributed in countries such as Australia, Canada, Hungary, France, Ireland, Singapore, Malaysia, Indonesia, the UK, and the US.
The first episode of Trại Hoa Đỏ is expected to be released on July 14.  VNS