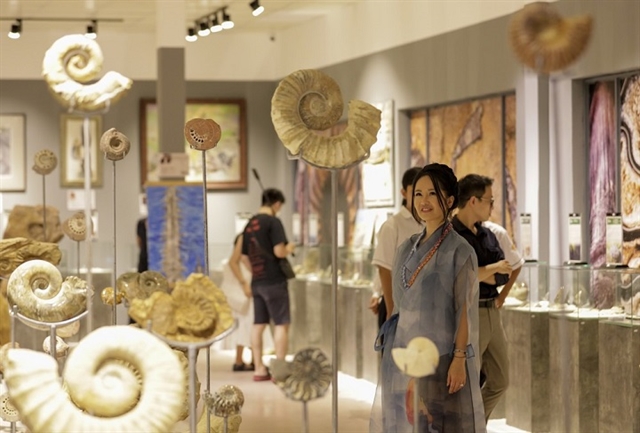 THỪA THIÊN-HUẾ — As part of Huế Festival 2022, an exhibition titled 'Fossils – A Journey to Discover the Origin of Life on Earth' opened its doors to visitors.
Hà Nội Fossil Museum brought to Huế nearly 2,000 specimens dating from 10 thousand to 2.3 billion years ago. These specimens are of high scientific value and have helped recreate a paleontological land with traces of ancient life, according to the organisers.
This exhibition aims to provide a gathering place for people who have a passion for science, especially in the field of palaeontology and fossils in Việt Nam.
It also conveys the desire to explore and touch the remnants of time and life that have been hidden behind the seemingly lifeless layers of rock.
In an interview with Nhân Dân (People) newspaper, Professor Tạ Hòa Phương, Chairman of the Việt Nam Association of Paleontology and Stratigraphy, said that the Hà Nội Fossil Museum is the only one of its kind in the country, with a mission to collect and preserve fossils.
"Each discovered fossil contributes to enriching mankind's understanding of the biological world that once existed on Earth. This fossil exhibition is a chance to provide the community with a correct perspective and important sources of information in the field of palaeontology," he said. 
Nguyễn Lân Cường, a leading palaeontologist who specialises in human evolution, said: "I have long awaited the opening of a museum like the Hà Nội Fossil Museum. It is extremely important for the next generation of palaeontologists to have authentic documents to compare and examine. Without such a museum, valuable artefacts will vanish forever. I believe this exhibition of the Hà Nội Fossil Museum will draw a big number of domestic and international visitors."
As part of the exhibition, visitors will have the chance to view unique artworks created by renowned artists and based on fossilised remains that date back hundreds of millions of years.
The event runs until October 31, opening time from 7am to 9pm at 76 Hàn Thuyên Street, Huế (Relic site of the Ministry of Education of the Nguyễn Dynasty). — VNS