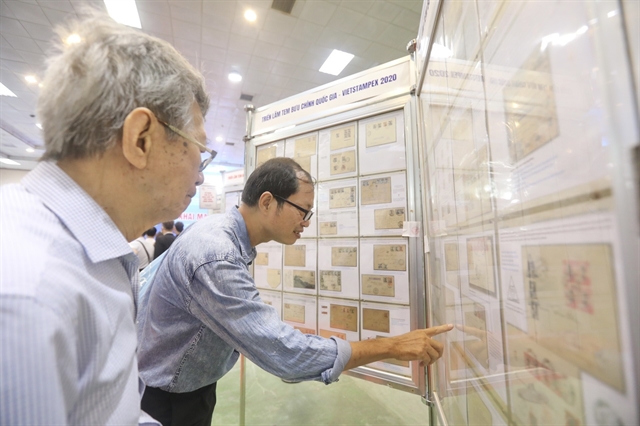 HÀ NỘI — The Ministry of Information and Communications, Việt Nam Stamp Association, and Việt Nam Post hosted a closing ceremony and handed out prizes to the winners at the National Postage Stamp Exhibition – Vietstampex on Sunday.
The stamp association and stamp collectors across the country put up 506 display frames for the exhibition.
The stamp collections are displayed artistically, giving viewers a pleasurable experience with vibrant postage stamps.
The Organising Committee chose four stamp collectors whose works were judged to be the most outstanding and presented them with gold medals.
They are Lưu Văn Lương (Hà Nội Stamp Association) with the work Using Cô Ba Sài Gòn Stamps on Letters and Postal Items of Indochina-Vietnam, Ngô Viết Vĩnh (HCM City Stamp Association) with the work Vietnamese Post Offices Established from 1861-1900, Nguyễn Hoài Thanh (Cần Thơ Stamp Association) with the work President Hồ Chí Minh's Great Dedication to the Vietnamese Revolution and collector Nguyễn Thị Bích Ngọc (Khánh Hòa Stamp Association) with the work Đà Lạt – City of Flowers and Love.
Three gold-plated awards, nine significant silver awards, 19 silver and bronze awards, as well as other awards, were also given out by the Organising Committee.
Notably, 92-year-old Trần Đức Thông received the oldest person award with the collection Vietnamese Popular Stamps.
The Friendship Palace in Hà Nội hosted the National Postage Stamp Exhibition-Vietstampex from June 24-26, attracting thousands of domestic and international visitors. The amount of young people interested in and visiting the show is also higher than in previous years.
The show provides an opportunity for stamp collectors to display their collections, share information, exchange ideas, and gain experience before participating in international stamp exhibitions.
This is also an opportunity to promote the culture of stamp collecting by promoting Việt Nam's stamp collection movement both domestically and globally. VNS