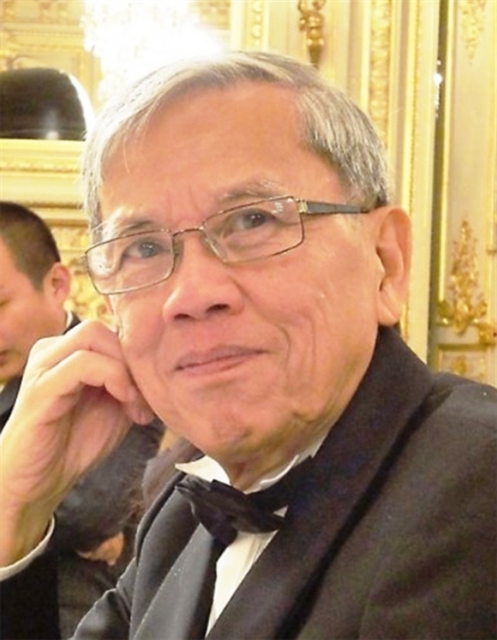 Overseas Vietnamese actor Trần Nghĩa Hiệp (Hiep Tran Nghia) is well-known for award-winning roles in Đông Dương (Indochina), Platane, Leila and All About Actresses. 
His most recent role is an old Vietnamese-origin man in the short film Malabar. The film has been nominated for Best Short Fiction at the César 2022.
Thể Thao Văn Hóa (Sports & Culture) daily reporter Nguyễn Huy chats with Hiệp about his acting career in France. 
Do you remember when you first engaged with art?
I was born in 1942 in Thái Hiệp Thành District, in the southern province of Tây Ninh. My mother was a teacher and was a close friend with the owner of Thanh Minh Cải Lương (reformed drama) Troupe. Late cải lương star Thanh Nga and I were taught to sing by the owner's husband. His name was Năm Nghĩa.
I sing traditional and bolero songs well. Năm Nghĩa wanted to turn Thanh Nga and me into a duo. But my mother did not want it. She wanted me to keep studying. I was so sad but I dared not to argue with my mother. 
I graduated high school in 1961 and one year later I entered the Phú Thọ University in Sài Gòn to study technology. At that time Thanh Nga was very popular and I was still a poor student. Sometimes, I went to watch her show. 
In 1964, I went to France to study computing engineering. Since then I have been living in France. 
It is rare for Asian people to work in the entertainment industry. How did you become an actor in France?
When I was studying at the university, a French director came to look for an Asian actor for an Indochinese soldier role. Students from China, Japan, Thailand and me went to the casting. I have qualified thanks to my acting knowledge that I was taught by Năm Nghĩa. 
I only had this role in my youth years. After graduation, I worked in Laon Province, about 150km from Paris, for ten years. I became a French citizen and my mother came to live with me. When my mother was ill, I quit my job to take care of her.
My wife and I opened a Vietnamese restaurant, Escale à Saigon. It was popular and promoted Vietnamese cuisine and culture. I had chance to gather my artistic countrymen such as Hữu Phước, Kiều Lệ Mai and Hà Mỹ Xuân to sing cải lương.
We performed cải lương at my restaurant and in the Vietnamese community. I always had a second character in the show because of my performing skills. 
When our children grew up, we moved to Paris. We did not do business anymore and we had spare time. When the Indochina crew announced casting for an Asian middle-aged man, I was selected. 
Next, I was offered a Chinese soldier role because the chosen Chinese actor could not speak French. I began to be known in France and Europe thanks to the Le Bal des Actrices (All About Actresses) movie.
I played a Vietnamese father living in France who is very conservative. He prohibits his daughter from performing because he thought being a performer is not good. There was a culture conflict between them and they argued fiercely. Since the movie, I have been in priority to French directors when they need an Asian man. 
You and Les Hommes Approximatifs troupe had time in Việt Nam in 2016 before you performed in the Sài Gòn play by director Caroline Guiela Nguyen. How did you feel when you returned Việt Nam at that time? 
My return to my homeland made me emotional. I returned to the place where I was born and grew up. I was 20 years old when I left my homeland and seventy-something on my return. Everything changed a lot, including me, but it felt warm and familiar. 
The troupe actors and I paid visits to other places and the return helped me to understand my role in Sài Gòn. It is a Vietnamese man leaving Việt Nam in his youth and his return home in old age. It is my most emotional role. 
What do you wish for after a long performing career?
The young overseas Vietnamese generation does not know Vietnamese traditional values. Thus, we sing cải lương, write books and make documentaries about Vietnamese customs. 
We tell them about the significance of áo dài and ceremonies such as weddings, funerals and death anniversaries. 
We also promote Vietnamese learning aimed at young Vietnamese generation in France and other countries, to keep their roots in indigenous culture integration. 
Could you tell me about your current work?
Presently, we are performing Fraternité (Brotherhood) by director Nguyen. The play was staged during the pandemic COVID-19 which has changed our life a lot. We still have a chance to perform. Plus, I film and sing in the Vietnamese community. 
My next role is a Vietnamese taxi driver who has culture shock in the US. — VNS