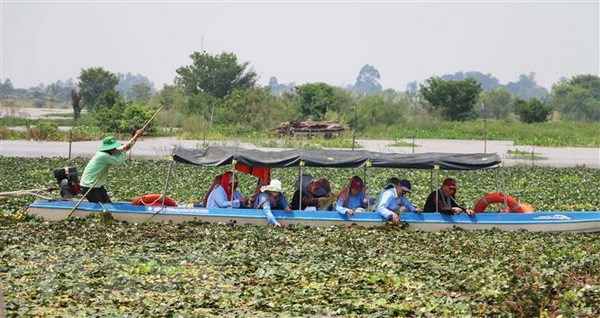 HCM CITY — Ecotourism, especially agri-tourism will be a dominant trend as the Mekong Delta strives to develop its tourism industry, experts say.
At the second forum on tourism connections between HCM City and the 13 Mekong Delta localities held on Friday, May 20, in Đồng Tháp Province, experts also said that stronger coordination was necessary to better tap the region's natural strengths.
Hà Văn Siêu, deputy general director of the Việt Nam National Administration of Tourism, said the Mekong Delta has a lot of potential and resources to develop agricultural tourism products.
In recent years, its tourism cooperation programme with HCM City has opened up multiple opportunities for investment and innovative startups that have led to the creation of a variety of agricultural tourism products, he said.
In developing such products, "we need to focus on the three outstanding strengths of the region – rice, fruit and fish…"
The value chain of agricultural tourism products involves creating quality experiences that "enhance the value of agricultural products associated with tourism," Siêu added.
Dương Anh Đức, Vice Chairman of the HCM City People's Committee, said that after the COVID-19 pandemic, general tourism trends have changed, as seen in the growth of small-group tourism, community-based tourism and agricultural tourism associated with indigenous culture.
"In order to improve the value chain of agricultural tourism products in the Mekong Delta and HCM City in the new context, we need to connect transport infrastructure and shorten travel time between localities, stimulate demand, provide loan support for organisations and individuals to develop eco-tourism and develop products with guaranteed quality and supply," Đức said.
"The quality of tourism products must be unique and diverse, matching the tastes of different age groups…while ensuring sustainability and promoting local identity," he added.
Phan Đình Huê, chairman of the Việt Circle Tourism Company, stressed the importance of improving accommodation facilities in the Mekong Delta and suggested a project to "manage tourism activities in the region professionally." 
Vice chairman of the Bạc Liêu People's Committee, Cao Xuân Thu Vân, pointed out that the current bottleneck in rural tourism was confusing management policies in different localities and the lack of thorough planning for developing the tourism industry.
"It is crucial to connect specific products among provinces and train a new generation of human resources as well," she said.
It was announced that Bến Tre Province will host the third HCM City-Mekong Delta tourism forum in 2024. — VNS