VietNamNet Bridge – A lot of schools, healthcare centres and offices in several resettlement residential areas in the central province of Ha Tinh have been left unused for years since their completion, creating a huge waste of public budget resources.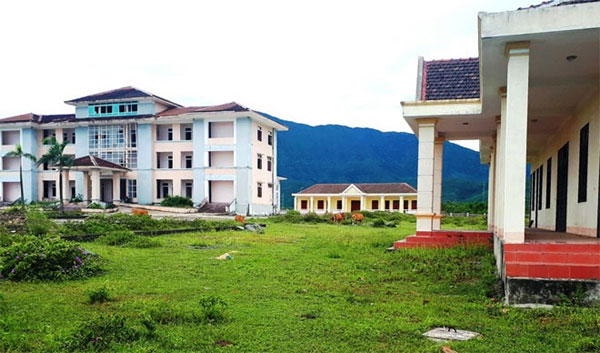 The unused buildings in Ky Loi Commune. — Photo cand.com.vn
Authorities said this was because targeted residents did not want to settle in the areas as they continued to struggle to find a way to hang on to their original homes. 
In Tan Phuc Thanh resettlement area in the province's Ky Anh District, there are a school, a healthcare centre, and an office built for commune authorities, all sitting empty. Nearby commuters said they saw cows strolling and grazing in the yards of the buildings every day. 
Tran Van Lam, an official of Ky Loi Commune, where the resettlement area sits, said the construction of the buildings was completed in 2013 at a cost of VND33 billion (US$1.4 million). 
Lam said local authorities planned to move 10,000 residents in the commune to the resettlement area, but in the past five years, those residents have yet to move out of their existing homes. 
Chu Van Quang, the commune's deputy chairman, said an overhaul is needed to repair the unused buildings as they were in bad condition due to weather impacts. Repairs will require a large amount of money. 
In Hoi Trung resettlement area in Vu Quang District, a VND16 billion school has also been left unused since it was completed in 2013. 
The resettlement unit said the area's previous residents had settled down in many areas the Government hadn't planned for, after they gave up their land for an irrigation project, making the total student number drop so sharply that the school couldn't stay open. 
Officials in Huong Quang Commune, where the school is located, said they are confused about the function of the school building as the commune has enough buildings for schooling needs. Putting the school into use will require them to find a huge source of funds for repair work, the authorities said. 
Residents in poor, remote areas in Ha Tinh are questioning why the buildings were built and left unused while their children are experiencing a lack of classrooms and sound facilities for healthcare service.
Source: VNS