VietNamNet Bridge – President Tran Dai Quang has called for the education sector to continue working on a comprehensive reform for education and training activities to produce high-quality human resources for national development and international integration.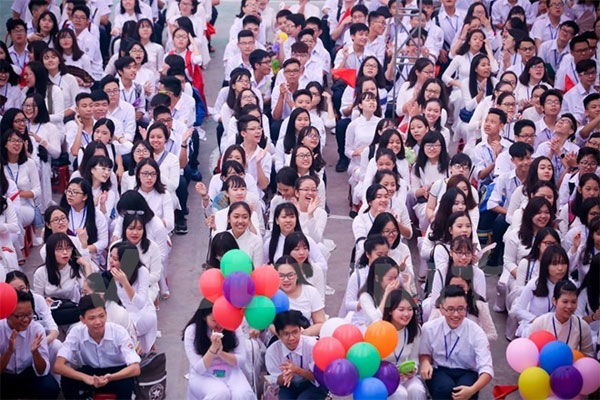 To prepare for the new school year, the Ministry of Education and Training has recently asked departments of education and training to ensure supplies of teaching and learning equipment. – VNA/VNS Photo 
Quang made the statement in a letter sent to the education sector's managers, teaching staff and students nationwide on the threshold of the new 2018-19 school year which officially starts on Wednesday.
The President requested reinforced State management and inspections to detect malpractices and proper solutions to address these shortcomings.
President Quang highlighted the significance of education and training in mountainous and underprivileged areas that are often home to ethnic minority peoples.
On the occasion, he wished students all the best for the new school year, calling for them to nurture their ambitions for educational achievements to contribute to national construction and development.
Recalling achievements made by the education sector in the past year, the President noted that for the first time, Viet Nam National University – Ha Noi and Viet Nam National University – HCM City had both been listed among the world's top 1,000 universities.
Works done
To prepare for the new school year, the Ministry of Education and Training has recently asked departments of education and training to ensure supplies of teaching and learning equipment, and to repair and upgrade school infrastructure with priorities given to classrooms, libraries, toilets, fresh water supplies and a green and safe environment.
Ethical issues were raised during the previous school year, so Deputy Minister of Education and Training Nguyen Huu Do said education departments had been asked to work with teacher training institutions to provide courses for teachers to help them realise and prevent situations in which violations of moral principles could occur.
He added that education departments and schools would strengthen inspections and strictly deal with cases of physical and mental violence in schools.
Do said the ministry had also completed a set of professional standards targeting teaching staff and education managers.
Among the big cities nationwide, Hanoi has reported serious over enrollment for the new school year, particularly among the first graders. The 2018-19 school year will welcome 130,000 children to the first grade of primary education, an increase of 30,000 from the previous year, Vietnam News Agency reported.
Overcrowding is expected in Cau Giay, Thanh Xuan and Hoang Mai, where some classes may have up to nearly 70 pupils, forcing three to share a desk designed for two.
Deputy Head of Cau Giay District's Department of Education and Training Nguyen Anh Tuan said overcrowding had been a problem in recent years.
Shortage of teachers
Some 40,000 graduates of pedagogy universities are unemployed, while at the same time 43 out of 63 provinces and cities report a shortage of 76,000 teachers for the 2018 -19 school year, according to the education ministry.
The dilemma reveals pedagogy universities' weakness in predicting the labour market's demands as well as their heavy dependence on State management, which has left them unable to easily respond to local needs.
The distribution of teachers is another issue as isolated localities, such as the mountainous province of Dien Bien or the Mekong Delta, are facing the most severe teacher deficits.
Nguyen Thi Nghia, deputy minister of education, said that until mid-August, the country had lacked 40,000 kindergarten teachers.
In the central province of Ha Tinh, 1,200 children were unable to enroll in pre-schools due to the shortage of teachers and classrooms.
The situation seems likely to worsen as many universities of pedagogy struggled to recruit enough freshmen for the 2018 -19 school year.
Nguyen Van Minh, director of the Ha Noi University of Education, therefore, recommended the Government invest in prestigious pedagogy universities and turn other teaching schools into branches of the top institutions.
Connections among pedagogy universities should also be accelerated, he said. 
Source: VNS