To mark 100th anniversary of the death of famous composer Claude Debussy, a classical concert night will be held on July 7 at the Vietnam National Academy of Music with the participation of French conductor Michaël Cousteau and Vietnamese pianist Bich Tra.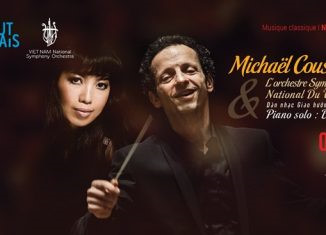 Michaël Cousteau has conducted several symphony orchestras around the world including the National Orchestra of Lyon and Montpellier Philharmonic Orchestra. 
In 2016, he became the conductor of the China National Symphony Orchestra under the framework of the "Beijing Modern Music Festival".
In the upcoming event, he will conduct the Vietnam National Symphony orchestra with the participation of virtuoso pianist BichTra. 
Hanoians will have an opportunity to enjoy two of Claude Debussy's most celebrated works, and some masterpieces bythe influential French composer Camille Saint-Saëns.
BichTra won a scholarship to the British Royal Academy of Music and was awarded the title of the Associate of the Royal Academy of Music (ARAM) in 2013 for her outstanding devotion in music.
VOV