The GBA Oktoberfest Vietnam 2018 will be held in HCMC in late September and in Hanoi in mid-October by the German Businesses Association (GBA) and the Delegate of German Industry and Commerce in Vietnam under the patronage of the Embassy of Germany.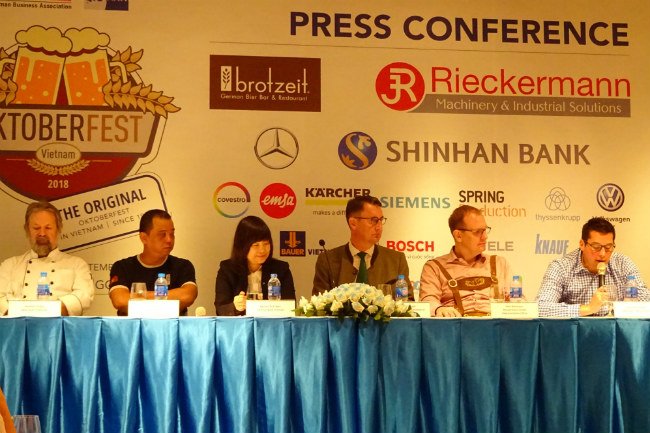 Representatives of the organizers and sponsors speak to the media at the announcement ceremony of GBA Oktoberfest Vietnam 2018
The Oktoberfest, a popular social and cultural event originated in Germany, was brought to Vietnam by the German business community in 1992, becoming one of the most awaited celebrations in the country every year.
Due to overwhelming demand, the organizers have decided to extend the event in HCMC from three to four days. Celebrations will take place at the Hotel Nikko Saigon from 6 p.m. to 11 p.m., from September 19 to 22.
In Hanoi, the event will take place from 6 p.m. to 11 p.m. over three days from October 11 until 13 at the JW Marriott Hotel Hanoi.
The GBA has been cooperating with both venues for several years continuously, not only because of the 5-star quality in hospitality services, but also because of their unique facility that provide spacious open-ground to set up the large big tent, the "Festzelt", just like in Germany. It's one of the main factors creating the authentic Bavarian party experience and can accommodate large groups with capacity of up to 1,200 – 1,500 guests at a time.
To enhance the genuine atmosphere of the real Oktoberfest, GBA Oktoberfest Vietnam 2018 introduces Germany's premium imported beer brands and exclusive Oktoberfest brews respectively in each location.
Coming to the event, guests can enjoy a buffet of premium German cuisine that will delight and excite the taste buds, as well as free-flow premium beers. During the festival, German music will be performed by the popular Munich-based AntonShow Band. 
Addressing a function to announce GBA Oktoberfest Vietnam 2018 at the Hotel Nikko Saigon on August 29, Thomas Debelic, chairman of the GBA, said: "We are happy and proud to announce the 26th GBA Oktoberfest in Vietnam, continuing the tradition founded by the German business community many years ago. We have continuously worked on improving the setting in order to create an authentic atmosphere in both Hanoi and HCMC. For the past three years, the GBA Oktoberfest in HCMC has been upscaled with an original German beer tent, with German beer, German music and German food. We are looking forward to welcoming you at the original German Oktoberfest."
SGT