Solo exhibition "Perfect Reality" by artist Luu Tuyen was opened to visitors at the Vietnam Fine Arts Museum in Hanoi on June 6. The exhibition features 30 artworks using mixed media on canvas and two sculptures, which took the artist five years to work and master the use of epoxy resin in art.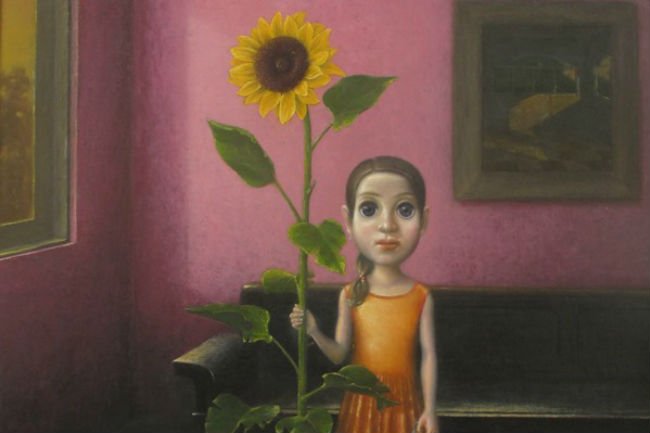 One of Luu Tuyen's artworks displayed at "Perfect Reality" exhibition. The dolls in his artworks have been created using a new process, and therefore carry different social and symbolic meanings 
Epoxy is an organic compound with a plastic composite base and a special composition that makes the material far more water- and heat-resistant than many other media.
After coming across the use of epoxy resin as a glaze on the surface of oil paintings, both as a clear protective layer and a top coat that creates a different visual effect to the finished artwork, Luu Tuyen learned to apply epoxy not only to the surfaces of paintings but also to create forms in sculptures.
The artist uses epoxy in applications similar to lacquer so that it can adhere to the canvas and oil paints, inlaid with gold and silver leaves.
Once finished, the surface of the artwork is glossy. However, the clear surface contains several layers of colors, paints and particles, creating an alluring depth through which the original oil painting on the canvas underneath the resin surface becomes more mysterious and beautiful as a result of this special visual effect.
The layers in Luu Tuyen's epoxy paintings also represent the complex levels of emotions his works exude. There are three major series in his repertoire, namely still-life, landscapes and people – his inimitable dolls.
With Luu Tuyen, the process of exploring resin is not only a process of mastering his art, but also a journey of self-discovery. His artworks portray isolation, self-doubt, apprehension, and the juxtaposition of the self, objects and spaces around him.
Luu Tuyen's works do not impose the artist's beliefs on his audience. Viewers are drawn into multi-dimensional dialogues, each fitting their subconscious perceptions and aesthetics.
"Art is a mirror on which one reflects and grows. My art reflects my anxieties, torments, and questions about a present-day reality where time-honored values have been replaced with false, superficial values and even falsehood. In that context, core values must be preserved," Luu Tuyen said.
"Perfect Reality" exhibition will run until June 11, 2018.
SGT