An exhibition by sculptors Thai Nhat Minh and Tran An offers a chance to see artworks made from opposite materials – paper and iron.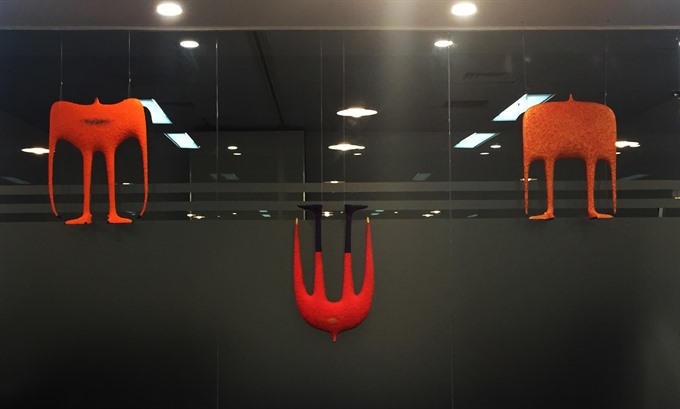 Sculpture collection entitled Summer by Thai Nhat Minh.
Entitled Flower Season & Bird the exhibition comprises 43 artworks by Minh and 20 sculptures by An. The two artists have hosted several exhibitions before, but this is the first time they will display artworks at the dual exhibition in Hanoi.
Minh will debut his latest creations, including more than ten works completed in the first half of the year. The artworks are on the theme of Bird, which is a part of his display at the exhibition. He draws inspiration from images of birds, which are often used in folk tales.
"Many Vietnamese folk tales I have read use images of animals to convey messages," Minh said. "I want to use images of birds to express human desires and aspirations. The sculptures of birds are my reminiscence on the past."
All the birds are turquoise, symbolising human dreams.
Minh is displaying his artworks divided into two periods of creativity. Entitled Legend of Sun, one part comprises ten sculptures which Minh made in 2014-15. The other is called Inspirational Season featuring pieces symbolising 12 months of the year.
Minh uses paper pulp mixed with glue and other natural materials such as sand, soil and stone for his work. His manipulation helps him imprint his emotions on to the art.
Artist An drew inspiration from natural beauty to create 20 pieces which are also on display for the first time. The pieces were made in 2017 from iron and using techniques of casting and welding.
"I think that the stems, leaves, or flower buds all contain abundant sources of energy and are full of vitality," An said. "I want to capture the most beautiful, hidden and wonderful moments in nature and convey the hope of growth and expansion for a brilliant future."
Birds and flowers are not simply birds and flowers, they are concerns, dreams, hopes and sentiments for nature and life that the two artists convey through their artworks.
Minh is an established sculptor who is highly regarded in the profession. He has hosted solo and group exhibitions in Viet Nam, the US and Hong Kong. He has also won fine arts awards from the Viet Nam Fine Arts Association and National Young Art Festival. An won the second prize at the 5th National Sculpture Festival which has been held every ten years.
The sculptures are exhibited at eSpace, where work and art intertwine offering an opportunity to see the contrast between toughness, coldness and weight with light and soft.
The exhibition runs until July 6 at No 1 Dinh Le Street, Hanoi. — VNS