VietNamNet Bridge – The Vietnamese Sức Sống Mới bamboo orchestra, the Japanese Waraku bamboo orchestra and the Hanoi Voices choir will reunite on the stage of L'Espace, 24 TrangTien, Hanoi for two exceptional concerts, on November 10-11.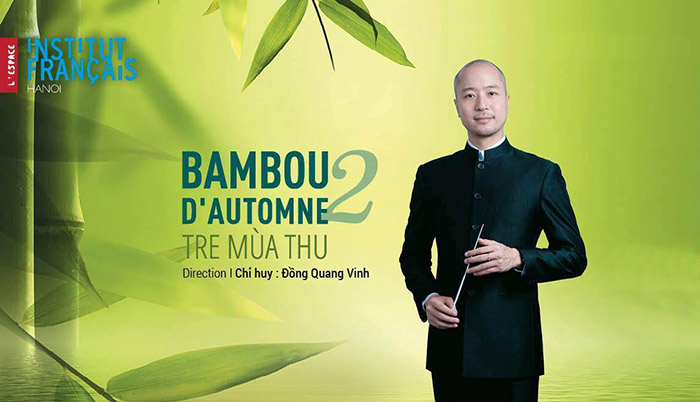 Choirs and musicians from several countries will perform classic works by French and Vietnamese composers. 
Under the baton of conductor Dong Quang Vinh, the "Autumn Bamboo" concert is a beautiful marriage between Western music and oriental instruments, between voice and instruments, between the taste of tradition and that of freedom.
At the concert, Sức Sống Mới Bamboo Orchestra will play the northwestern folk of Vietnam "Inh lả ơi" and "Fruit harvest season" by Huu Xuan.
The Hanoi Voices Choir will perform J.Offenbach (1819-1880): Barcarolle – Tales of Hoffmann; G.Fauré (1845-1924): Requiem in D minor, Op. 48 and O.Messiaen (1908-1992): O Sacrum Convivium.
Sức Sống Mới & Waraku bamboo orchestras will play A.C.Debussy (1862-1918): Golliwog's cake-walk; E.Satie (1866-1925): Gymnopedies no.1; C.Saint-Saëns (1835-1921): The Swan – Carnival of the Animals; and "Birds of Pongk'le" by Nhat Lai.
Bamboo orchestras & solo sopranos will perform J.S.Bach (1685-1750) & C.Gounod (1818-1893): Ave Maria and J.Offenbach (1819-1880): The birds in the bower – Tales of Hoffmann.
Erato Children's Choir will perform Monsieur Nô: Water and C.M Schönberg (1944): The castle in the clouds – from the opera "Les Misérables".
Hanoi Voices Choir & Bamboo orchestras will perform B.Coulais (1954-): Look To Your Path – from the film "The Chorus".
Tickets are VND90,000 to VND300,000 and available at L'Espace.
PV