VietNamNet Bridge – "ParkCity on Canvas", a gift eventuality to lift supports for inundate victims in Vietnam, will be hold by ParkCity Hanoi on Oct 11-15, during Pavilion of ParkCity Club, ParkCity Hanoi Township, Le Trong Tan Road, Ha Dong District, Hanoi.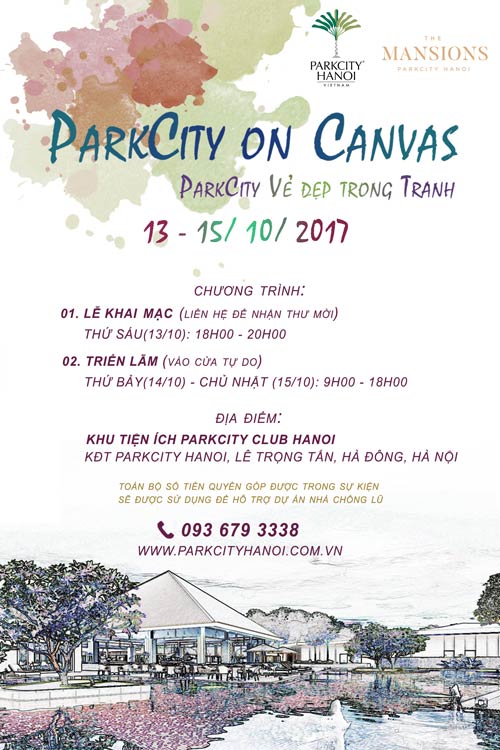 With a intentional appearance of 18 artists vital in Hanoi, a eager consultancy and contributions of a Vietnam Flood Prevention Program and Vietnam Art Space in a sale and auction of paintings, this eventuality is earnest to be one of a suggestive village activities in suitability with ParkCity's truth of business.
The portrayal workshops will be hold during a Pavilion of ParkCity Club from Oct 11 to Oct 13, 2017. The opening rite will be strictly hold on a afternoon of Oct 13, 2017 for invited guest usually and giveaway acknowledgment for open will be hold on Oct 14 to Oct 15 consecutively.
At a exhibition, visitors not usually have a event to suffer a beauty of singular paintings in a willing ambiance of ParkCity Hanoi, though also can minister goodwill to lift a gift account by shopping paintings. 
All a income collected from a paintings sole by ParkCity and auctioned by a Vietnam Art Space (a open organisation of Vietnamese artists pity opposite perspectives in high hopes of swelling tellurian art trends and styles) and a Flood Prevention House (community contributions to build inundate shelters for disadvantaged people in Central of Vietnam) will be delivered to households pang complicated waste after a disaster. This support will assistance disadvantaged people have a possibility to redeem their lives and children can lapse to school.
Within a horizon of a program, 18 artists visited ParkCity to consult a venue to safeguard a conditions for a workshop. 
Artist Nguyen Quoc Thang – Program Set adult Direct, said: "In a heart of Hanoi, with such a special ecological greenery ambience of autumn, this is an ideal place to classify a workshop, that strongly inspires the feelings for paintings. We are all really happy to accept invitations from ParkCity to attend in this module for gift purposes."
For some-more information, contact: 093 679 3338 or revisit ParkCity's website.
PV
Article source: http://english.vietnamnet.vn/fms/what-s-on/188081/art-exhibition-in-hanoi-to-raise-funds-for-flood-victims.html