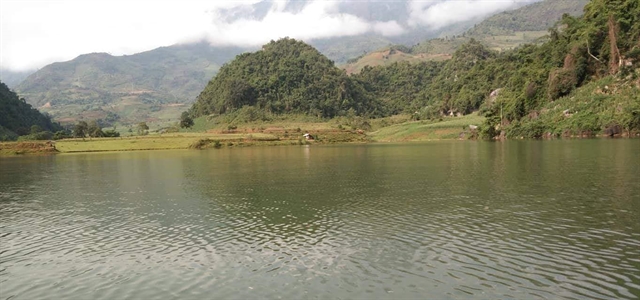 By Lâm Giang
Huổi Cang, Huổi Đáp caves in Pa Ham in Điện Biên Province have been likened to an artistic masterpiece with a variety of unique features including its topography, geology, geomorphology, climate, biology, ecology and environment.
Pa Ham is a highland area, nearly 80km from the centre of Mường Chà District. Pa Ham has a very poetic landscape with majestic mountains and beautiful rivers.
Its magnificent beauty holds many mysteries for people who want to explore and conquer like Huổi Cang and Huổi Đáp caves. 
During the war to protect the country's northern border in 1979, these caves were used as a place to evacuate people and for State agencies to hide food, weapons and ammunition for the military and people of then Lai Châu Province (now known as Điện Biên Province).
Huổi Cang and Huổi Đáp caves are located in a limestone mountainous area, about 480m high above sea level. The mouths of the two caves are about 450m apart, and face south-east.
Huổi Cang Cave has a total length of more than 1km. The cave entrance is only 1m wide and 1.5m high and located where two hills meet. The cave is divided into three main compartments and many small niches. The floor of the cave is soil and rock.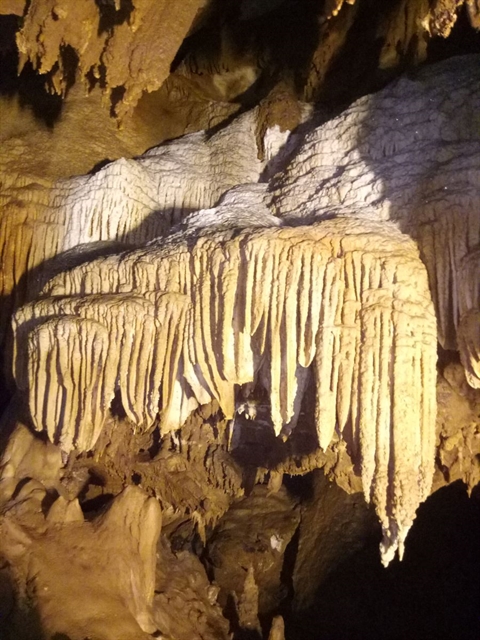 The first compartment is about 15m from the entrance of the cave. On the ceiling and on both sides of the cave are stalactites shaped like sharp claws. In other arc-shaped niches, there are stalactites shaped like bamboo shoots, Buddha statues and giant mushrooms. The stone pillars are about 4-5m high, 1.5-2m in diameter, covered with yellow and white stalactites. On the wall, there are strips of pure white or golden stalactites that have formed like waterfalls.
The second chamber is sunk deep into the ground. There are many stalactites with strange shapes and long ledges connecting the ceiling of the cave to the ground. There are many coral strips 8-10m long and nearly 10m wide.
On the walls and ceiling of the cave, stalactites fall down like silk ribbons. In particular, on the ceiling, stalactites clump together like clusters of crystal chandeliers with bells. Many stalactites are shaped like gold and silver waterfalls pouring down from above. Other stalactites look like animals such as rhinoceros and crocodiles.
The third compartment has a length of nearly 300m. At the entrance is a giant egg-shaped stalactite. This compartment is divided into two large alleys and small alleys. In each niche are stalactites with diverse shapes such as bells, sea lions and birds. On the ceiling and sides of the wall are yellow, white, and gray stone clouds that blend together.
Meanwhile, Huổi Đáp Cave has a total length of 350m, divided into three main compartments. Its mouth is 3m wide, 1.5m high, and 7m deep.
The first compartment has a length of about 100m. The widest place is from 25-30m and the dome is 15-20m high.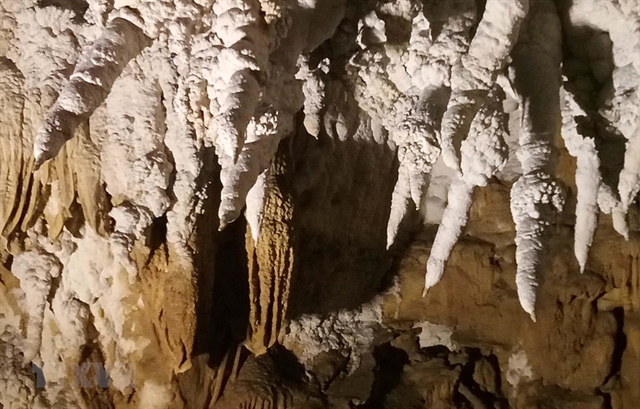 In this compartment, there are many bats, birds, spiders and forest snails.
The second compartment has two entrances and is divided into three small niches. Inside the nooks and crannies are stalactites.
The third one has a length of about 100m. To get inside, you have to lie on your side to crawl through, then stoop to explore.
It is divided into two small niches. The first one is 50m long, deeply rooted in the ground. The arch of the cave is low. The walls and floor of the cave have yellow, dark gray stones linked together into smooth, seamless blocks from start to finish. The second niche is about 2m lower than the first. The structure of this niche is like a smooth trench and has a distinct beauty.
According to the Department of Culture and Information of Mường Chà District, the cave complex of Huổi Cang and Huổi Đáp is a unique cultural heritage. It contains important vestiges of the historical formation and development of the earth as well as the ongoing geological process, the formation of the landscape and the unique features of topography and bio-geomorphology.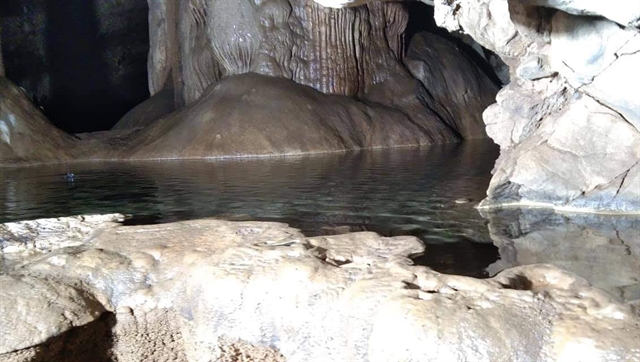 The cave complex was recognised as a national scenic relic in 2019.
With a system of pristine stalactites, and rich images that have been created by nature over thousands of years and are still being created today, Huổi Cang, Huổi Đáp caves are truly beautiful. This is a proof of how wonderful the northwest can be and when the COVID-19 pandemic ends, you should visit at least once. — VNS