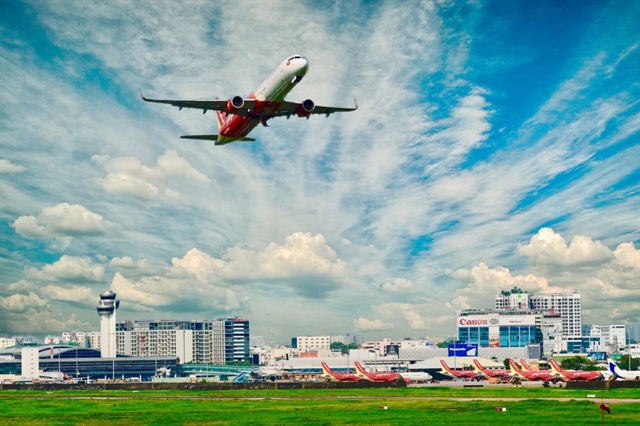 HCM CITY Customers who buy Vietjet air tickets online via HDBank will get up to 36 per cent cash back as part of a new promotion programme in response to the first "Cashless Day- June 16″ in Việt Nam.
The programme, entitled "Transfer money – Cashback on flights", is only available for customers buying air tickets on www.vietjetair.com and paying via mBanking HDBank accounts or Vietjet Sky Club. 
It applies to all Vietnamese domestic routes and international routes to Japan, South Korea, Taiwan, Hong Kong, Thailand, Singapore, Myanmar, Cambodia and Bali (Indonesia).
Customers who purchase Vietjet airfares via instalments with HD SAISON also enjoy zero per cent during the loan term. According to Vietjet, no prepayment or salary confirmation is required. 
With some simple steps on www.vietjetair.com, customers can easily buy one or more air tickets on all Vietjet domestic and international routes with straightforward loan procedures, quick approval and loans ranging from VNĐ2 million (US$86) to VNĐ15 million ($640).
Vietjet is the first airline in Việt Nam to operate as a new-age airline offering flexible, cost-saving ticket fares and diversified services to meet customers' demands. It provides not only transport services but also uses the latest e-commerce technologies to offer various products and services for consumers.
Vietjet was named "Best Ultra Low-Cost Airline 2018 – 2019" and awarded the highest ranking for safety with 7 stars in 2018 by the worlds only safety and product rating website AirlineRatings.com. The airline has also been listed as one of the world's 50 best airlines for healthy financing and operations by Airfinance Journal in 2018. VNS