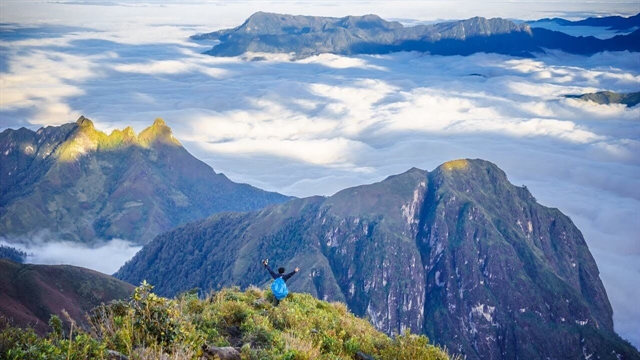 HCM CITY – Bạch Mộc Lương Tử, Việt Nam's fourth highest peak in Lào Cai Province, is a perfect venue for viewing sunsets and catching clouds.
Conquering Bạch Mộc Lương Tử is a great challenge in both physical and mental endurance.
At 3,046 metres, the peak, also known as Kỳ Quan San, is the second highest in the northern province, after Fansipan, which is called "the Roof of Indochina".
Muối Mountain, 3,000 metres high, is the most beautiful site to catch the sunset and sunrise on the way to Bạch Mộc Lương Tử peak. It acts as a natural border between Lai Châu and Lào Cai provinces.
There are two routes to the top, one from Sàng Ma Sáo Commune in Bát Xát District in Lào Cai Province, and the other in Lai Châu Province from Dền Sung Village in Sin Sủi Hổ Commune in Phong Thổ District. You can go up one way and down the other for more picturesque vistas.
The climber can hire porters, who are ethnic Dao who also take care of the meals during the trek. Their fee ranges from VNĐ300,000 to VNĐ500,000 per day. VNS