Lê Hương
The lychee harvest season arrives in July, and various travel agencies in and outside the northern province of Bắc Giang have already planned tours for visitors to pick lychees at farms in the region.
The province is famed for its various fruits, especially the lychees in Lục Ngạn District, which are popular both at home and abroad.
Since the middle of March, when Việt Nam opened its doors to international tourists, domestic guests have returned to Bắc Giang. Hundreds of visitors come to the region every day and even more at weekends.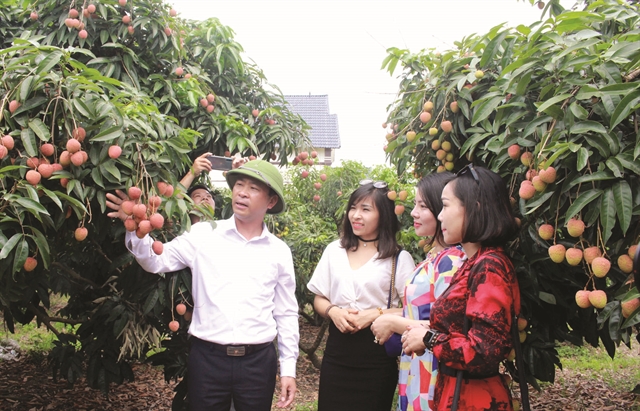 Lychee life
Lê Văn Tiến, director of Đông Bắc Culture Tourism Co-operative in Chũ Town, Lục Ngạn District, said that in mid-April, the Hòa Bình Travel Agency in Cẩm Phả City, Quảng Ninh Province, contacted him to bring visitors for the upcoming lychee harvest season.
"To serve customers better, we hired 10 more people, and added 50 more tables in the dining hall," Tiến said.
The co-operative can now serve 200 people a meal with Asian and European menus.
Many visitors like to visit spiritual places such as Cấm Sơn Lake, AM Vãi Pagoda in Nam Dương Commune, Khánh Vân Pagoda in Chũ Town, and Hả Temple in Hồng Giang Commune.
The An Phú Trade and Tourism Cooperative in Tân Sơn Commune has exploited these routes well.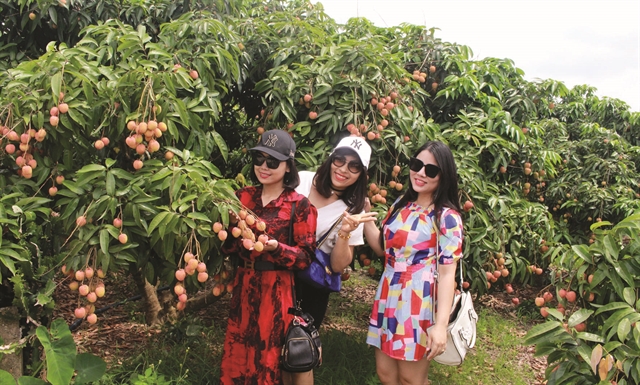 Khúc Thị Nga, deputy director of the cooperative, said the enterprise was applying various package combo tours for 2 days and 1 night at a reasonable price of VNĐ300,000-600,000 (US$13-26).
The tour includes lunch, camping, fishing, kayaking, making local cakes, a playground for children and picking lychees in the gardens with local guides.
"For the upcoming lychee season, we have four tours of 2 days each to destinations like Cấm Sơn Lake, Bắc Hoa Village of the Nùng ethnic minority in Tân Sơn Commune, Đáy Stream, Cặm Stream and Ngà Stream in Sa Lý Commune," Nga said.
There are 19 agencies and cooperatives offering tourism services in Lục Ngạn District.
Since March, thousands of people have visited the area. Many travel agencies like Hoàng Long Trade & Tourism Ltd., Erahouse Education Experience Company, and Vietsky Tourism have come to the site to arrange tours for the upcoming lychee season.
Local authorities in Lục Ngạn have planned a tourism programme titled "Lục Ngạn Summer Colour and Scent" from May to July. 
The authorities will continue to promote eco-tourism, fruit trees and ethnic minority culture in the locality.
Nguyễn Thị Năm, head of Lục Ngạn District's Culture and Tourism Department, said the authorities had facilitated travel companies to put on tours to the area.
She said that the local agencies had chose fruit farms and destinations with scenic landscapes and good facilities to receive guests to visit, shop, and set up connections to sell lychees and other agricultural produce.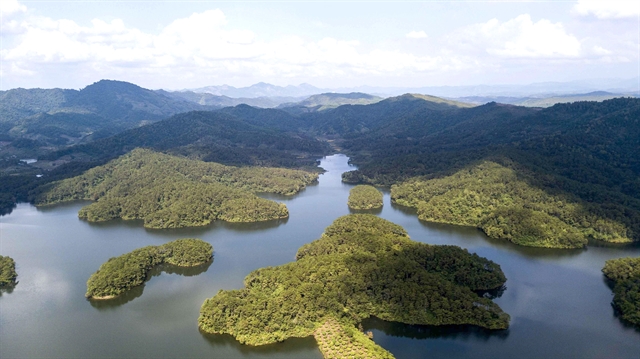 Tourism cooperatives such as in Tân Mộc, Thanh Hải, Quý Sơn, Tân Sơn, Giáp Sơn, Hộ Đáp, and Nam Dương provide great networks.
Năm said various training classes had been organised for local tourism staff and workers in the farms, hotels and guest houses, especially those in localities with beautiful landscapes.
Năm said the district hoped to receive some 70,000 visitors during the lychee harvest season.
Community-based tourism
Local authorities in Bắc Giang have recently shown much care toward developing community-based tourism to enhance people's living standards.
In the two districts of Lục Ngạn and Lục Nam, there are large areas under fruit trees like lychees, grapes, oranges, watermelons, pineapples, longans and custard apples.
Besides these fruits, the province also has other delicacies such as free-range chickens in Yên Thế District, rice wine from Vân Village in Việt Yên District, steamed sticky rice and ant eggs from Sơn Động District.
The province has 11 tourist sites in total, which have been recognised as provincial landmarks: Bổ Đà Pagoda in Việt Yên, a golf course in Yên Dũng, Hoàng Hoa Thám Historical Relic Site and Community-based tourism site in Ven Village in Yên Thế, and Mo Stream Ecological Site in Lục Nam.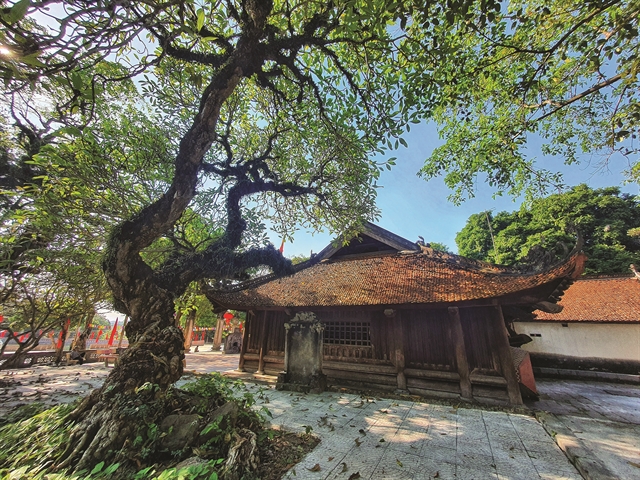 Dương Hồng Cơ, deputy director of the Bắc Giang Culture, Sports and Tourism Department, said more than 10 tourism cooperatives and three community-based tourism sites had been established in the districts of Sơn Động, Lục Ngạn and Yên Thế.
During harvesting seasons for lychees, oranges and grapefruits, local cooperatives and farms in Thanh Hải, Tân Sơn and Quý Sơn communes have co-ordinated with travel agencies to welcome visitors.
Lý Thị Hợi, director of the Thân Trường Cooperative in Yên Thế, said the cooperative had invested over VNĐ40 billion to build seven communal houses on stilts and three functional areas, as well as to improve the gardens and tea processing workshop.
"Now we can receive up to 1,500 visitors each day and serve lunch for them," she said. "We can welcome 500 guests to stay overnight with us."
Hợi said 20 household members had joined in serving at a community-based tourism site in Ven Village.
Cơ said tourism activities had brought more income to cooperatives and their members.
"Yet the tourism activities have not expanded well yet," he said. "They need more support from authorities, concerned agencies and local people."
Cơ realised that cooperatives and local residents are still not connected with one another to form a smooth workflow in offering services.
"I think successful models should share experiences with other sites so that cooperatives can learn from one another," he said. "Local cooperatives can learn from success lessons from other provinces."
Local authorities have issued policies on developing tourism in 2021-2025. A master plan for developing local tourism for 2022-2030 has also been approved. The plan supports 35 community-based tourism sites in the province at a total cost of VNĐ150 billion.
The province expects to receive 1 million visitors this year. VNS