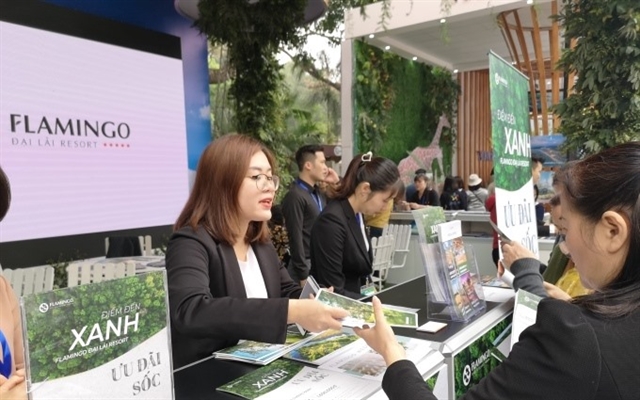 HÀ NỘI  Việt Nam International Tourism Mart  (VITM) 2020 will be held on April 1-4 focusing on preserving heritage and promoting heritage tourism.
With the theme Heritage – Power of Việt Nam Tourism, the biggest annual event of national tourism will be held by the Việt Nam Tourism Association (VITA), and supported by the Ministry of Culture, Sport and Tourism.
In the eighth edition, VITM will be coincided with the 60th anniversary of the establishment of the tourism industry.
Vũ Thế Bình, vice chairman of VITA, explained at a press conference on Friday that heritage is the most important resource of Vietnamese tourism, the key factor to lure domestic and international tourists.
"However, natural conditions and inadequate exploitation have led to damages and bad impacts on many heritage sites, besides, the limited budget for embellishment and protection of heritage also make the situations complicated," Bình said.
"I affirm the importance of preserving and promoting the value of the heritage to the future of the country's tourism industry. The VITM will include photo exhibitions and workshops on this field to raise people's awareness and promote heritage tourism."
Following the success of the last show in 2019 with over 85,000 visitors, 502 booths and 720 exhibitors from 27 countries and territories, VITM 2020 will be back impressively.
Bình revealed that the event will have the participation of businesses, agencies, tourism promotion agencies from 45 provinces and cities nationwide. Until now, enterprises from 17 countries and territories have registered to take part including South Korea, the US, Australia, Thailand, China, Japan, Philippines, North Korea, Indonesia, Malaysia, UAE, Cuba, and Sri Lanka.
As usual, the most attractive part of VITM is the tourism stimulus programme. This year, the organising board promised to offer 100,000 cheap tickets, 1‌8,000 package tours, more than 15,000 vouchers with up to 50 per cent discount and many other gifts for customers.
As part of the event, the national forum Heritage – Development Resources of Việt Nam Tourism will be held to discuss cultural heritages' contributions to tourism and economic development.
At the seminar Tourism Looks toward the Future, participants will propose eco-friendly tourist products and introduce technological application in tourism development.
Other activities include an awarding ceremony honouring individuals and tourism businesses, art performances and culinary presentations.
Đinh Ngọc Đức, director of the Market Department under the Việt Nam National Administration of Tourism (VNAT), said the sustainable development, heritage preservation and environment protection are remarkable issues to mention at all activities of VITM. 
"Tangible and intangible heritage have been the leading resource to Việt Nam tourism," he said.
"Through VITM, we will call on authorities, business and tourism labours to preserve, protect heritage and promote value of heritage through sustainable tourism to make heritage become a strong support for the national tourism." VNS