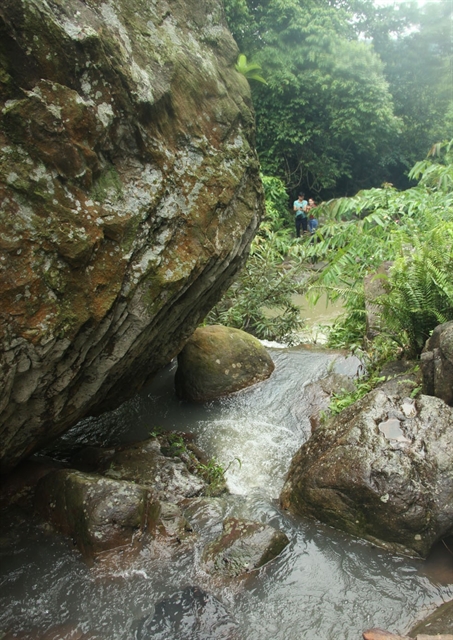 Lâm Giang
While Bắc Giang is currently Việt Nam's COVID-19 epicentre and travel there is ill-advised, once the pandemic subsides you could do worse than take a trip to this northern province.
Before the resurgence of the pandemic in recent weeks, we left the hustle and bustle of the city to find a tourist destination close to nature. Bắc Giang, a land with rich culture and many tourist attractions, was one of our top picks.
We chose Rêu Stream located in Giáp Sơn Village, Cẩm Lý Commune, Lục Nam District, which is about 40km from Bắc Giang City.
By following Highway 37 towards to Sao Đỏ Town, Hải Dương Province in more than 10km you will reach Cẩm Lý Commune. Rêu Stream with its pristine beauty is located under the Lòng Thuyền ravine with a length of about 3km. Both sides of it feature mountains in the territory of Giáp Sơn Village which is on the west side of the famous Yên Tử mountain chain of Quảng Ninh Province.
To travel to the top of the stream you must go from the lower part of the stream, gradually climbing upstream via a rugged and bumpy mountain trail.
After walking about one kilometre, a large space appeared in front of us. A group of students out for a picnic that we met on the road were playing under the fresh cool waterfall. Perhaps such excitement and innocence can only be experienced at this age.
We continued our journey to the peak of Rêu Stream. The trail along the mountain was full of obstacles and difficult to access due to the steep slopes. However, the scene here was wonderful with fresh air. Sometimes, we saw stone slabs carved by nature into strange shapes. Climbing these flagstones was difficult and risky, but equally interesting.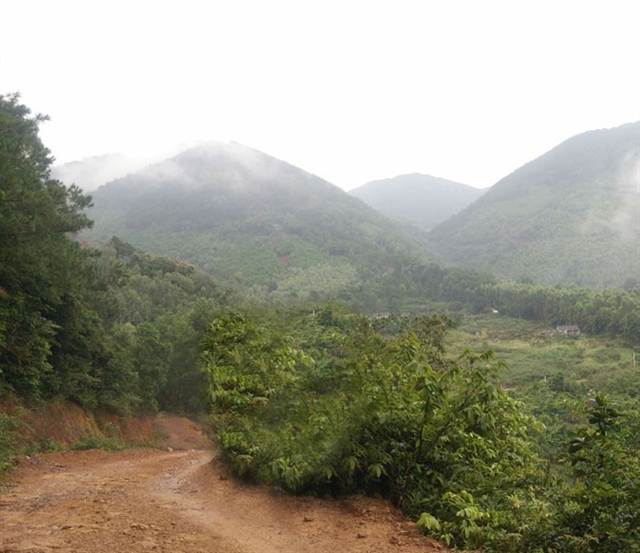 The vegetation on both sides of the stream was rich with tomentose rose myrtle, bamboo, bindweed and many other trees. On the cliffs, we saw hundreds of years old trees with big shaggy roots hugging the stone wall and their strips of leaves dropping into the stream bed.
Looking down from above, we saw small, clear and blue lakes. They are natural swimming pools that nature has provided people. From the top of the mountain, we could see how small humans are before nature.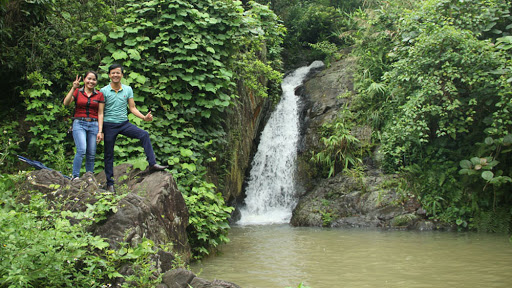 In the summer, the stream here is an ideal place for a natural bath.
When travelling to Rêu Stream, in addition to the rock caves, there are also vestiges of two ancient temples built in the 14th and 15th centuries during the Lý and Trần dynasties. Hòn Tháp, also called Sơn Tháp Pagoda, is downstream and Mã Yên Pagoda is upstream of Rêu Stream.
Legend has it that this was the place where King Trần Nhân Tông gave up his throne and fled to the Yên Tử mountains to become a monk. These two pagodas were famous in the past but over time, the towers fell and the temples were ruined, but the foundations still remain.
We also found traces of Mã Yên Pagoda. Unfortunately, over the years, it has been reduced to just stone vestiges lying behind the edge of the forest. But that was enough to move us as on a large stone slab, there was still a clear footprint.
Another legend has it that previously, Mã Yên had only one monk. The pagoda was on the top of the mountain, so there was no water for daily life. The well only had water in the rainy season, so the monk prayed and then he carved a footprint of Buddha on the stone slab. Strangely, when digging was completed, a cool and clear stream of water flew out and it was full all the time.
Bắc Giang has a beautiful natural landscape unique to the midland interposed fertile plains and mountainous areas.
This combination gives Bắc Giang interesting mountain landscapes, waterfalls, and rich flora and fauna. These resources are valuable for the development of diverse types of tourism such as ecology, discovery and adventure tourism. — VNS