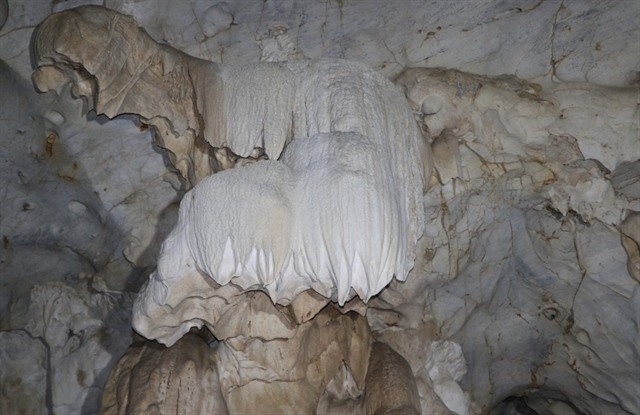 Lâm Thanh
Located nearly 350m above sea level, Hắt Chuông Cave has a wild beauty with biodiversity as well as historical, cultural and scientific values.
The cave is in Huổi Cang Village, Pa Ham Commune, Mường Chà District, Điện Biên Province. It is named under the ethnic Thái language, in which Hắt means waterfall and Chuông means spinning wheel. In the past, there was a waterfall near the cave entrance and in the dry season, the stream looked like a spinning wheel.
To reach the cave, visitors can travel by car or motorbike on three routes.
From Điện Biên Phủ City, along Highway 12 to Mường Lay Town, tourists can travel up Highway 6A to Pa Ham Commune. The second way is from Điện Biên Phủ City along Highway 279 to Tuần Giáo Town, and then go to Highway 6A to Pa Ham commune.
We chose the third option. From Điện Biên Phủ City, we went along Highway 12, through Mường Chà Town to Hừa Ngài Commune,  passing Highway 6A to reach Pa Ham Commune. After arriving in Pa Ham, we took a boat to cross the poetic, majestic Nậm Mức River to come to Huổi Cang Village and walked about 300m to reach the cave.
Pa Ham is a remote commune of Mường Chà, nearly 80km from the district centre. The commune has many beautiful sites including rivers, mountains and caves like Huổi Cang, Huổi Đáp, Thẳm Tâu, and Hắt Chuông.
Hắt Chuông Cave is located in a limestone mountain range formed during the geological tectonic process of the earth. A regeneration forest, rice fields and the Nậm Mức River surround the cave.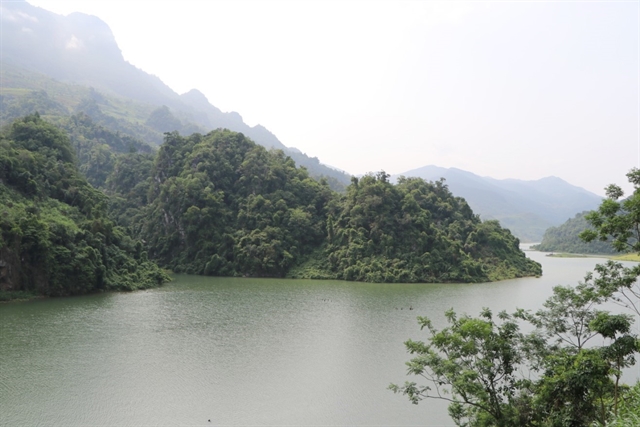 The cave has four entrances. The main one faces the southeast, while the other three face the northeast. The cave is about 250m long, divided into three compartments and three small subdivisions.
The first compartment has a depth of about 98m. It is divided into two large branches, the widest place is about 7m and the ceiling is about 8m high. Inside the compartment is yellow, grey and brown stones connected together. On the cave ceiling, stalactites create shapes like chandeliers or dark brown curtains.
The cave wall features many strips of stalactites, curving as soft as velvet curtains and waterfalls in succession. The cave floor features large stone mounds with vivid images of nature such as herds of elephants and beautiful stone pillars and stalagmites. From this position, we could see a side entrance facing the northeast with daylight shining in. It looked like a spotlight to make the place more shimmering and fanciful.
The second compartment has a length of more than 80m. The ceiling of the cave is studded with spiral-shaped stalactites as well as stone bells, bunches of rice, waterfalls, umbrellas and colourful statues.
The cave walls are pure white stone ledges with around 3-5m long interwoven like silk strips. The cave floor looks like stone blocks of different sizes, including some in the shape of a woman holding a child, a sleeping fairy, and rice trays.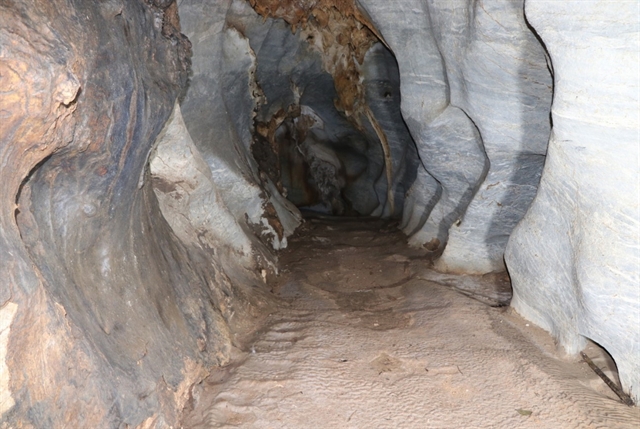 From this compartment, the light from the two side entrances in the northeast and southeast reflects to give the space a mysterious look. There is a large space like a big hall in this compartment that can hold thousands of people.
Meanwhile, the third has a length of nearly 70m with a width of 5-10m and a height of more than 2m. The cave ceiling is arched with yellow, brown, grey and white stones and some small stalactites hanging down. The cave walls are yellow, grey, and black stone blocks linked together into seamless blocks, bringing a distinct beauty different from the previous compartments. The cave floor is wet, relatively flat, and has many small round pebbles.
Last month, Hắt Chuông Cave was approved for provincial heritage recognition. This is expected to create favourable conditions for linking tours with the scenic caves of Huổi Cang and Huổi Đáp on the same route along the Nậm Mức River, enjoying the charming scenery and catching fish on the river. Along with the traditional cultural values of the ethnic minority communities located on Highway 6A, Hắt Chuông Cave will be a very attractive destination.
According to Nguyễn Anh Đạo, director of the monuments management board of Điện Biên Province, Hắt Chuông is located in a limestone mountain range with the geological formation that created the cave having different types of ecosystems such as limestone mountain ecosystems and cave ecosystems.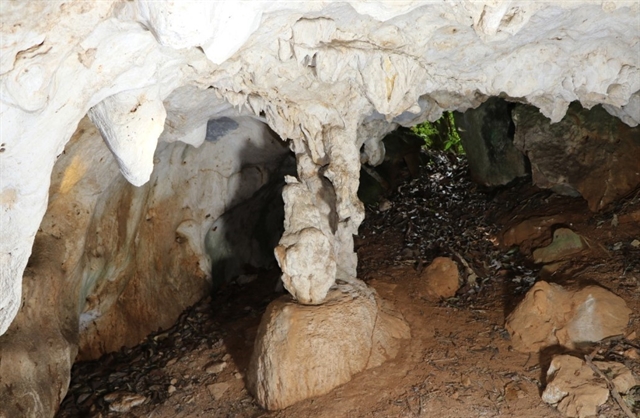 Đạo said the cave has retained its wild beauty with biodiversity and historical, cultural, scientific, tourism and aesthetic values.
Màng Văn Nơm, chairman of Pa Ham's People's Committee, said Pa Ham is a remote commune with four ethnic groups living including Thái, Mông, Kinh and Mường.
The commune is mainly mountainous, with a small economic scale and unfavourable natural conditions. The main source of income of the people here is mainly from rice cultivation combined with animal husbandry.
Hắt Chuông has a very important meaning for the area and could make a significant contribution to the local tourism development, he said.  VNS