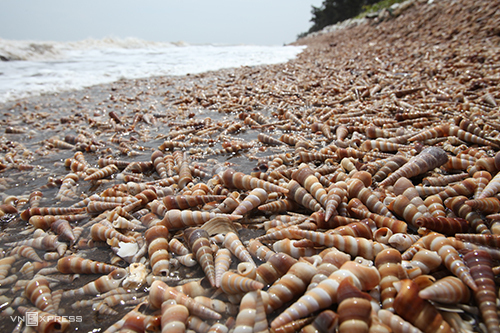 HCM CITY — Millions of horn snails drift ashore to Chày Mười Islet in the Mekong Delta province of Bến Tre between October and April each year.
Paddling through the Yên Hào Canal to this place in Bình Đại District's Thới Thuận Commune, you will find a beach seven kilometres long filled with the snails. The wind blows from the northeast, bringing the creatures to shore, according to locals.
"This shore is the only place that sees such a huge quantity of snails. Every year, the snails wash ashore and build a natural wall to protect our fields," local resident Lê Văn Phước said.
Local people said the snails stack up to a metre high and five metres wide
Visitors can reach Chày Mười Islet by boat or motorbike.  VNS