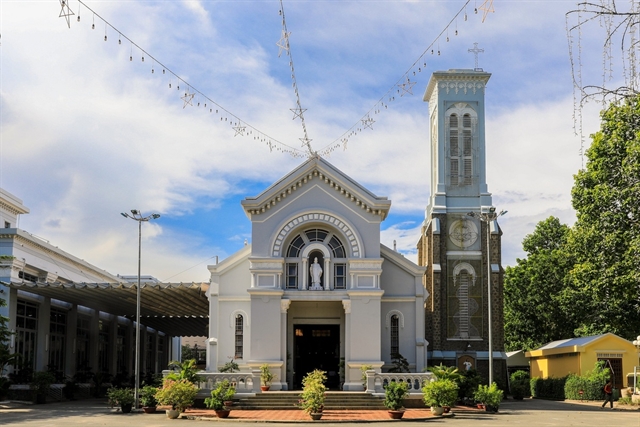 HCM CITY — The 100-year-old Hạnh Thông Tây Church in HCM City's Gò Vấp District attracts many visitors at the weekend with its Byzantine style beauty.
A French contractor took three years to build the church with a fund from Lê Phát An, uncle of empress Nam Phương, the last empress of Việt Nam, and son of Lê Phát Đạt, also known as Huyện Sỹ, one of the four richest persons in Cochinchina at the time.
The church's design is of Byzantine style, modeled after the old church, the Basilica of Vitale, in Ravenna, Italy. Byzantine architecture incorporates a dome roof and many windows.
The main dome is 30 metres high. The Byzantine influence makes Hạnh Thông Tây Church different from the vast majority of churches in Việt Nam, which are often built in a Gothic or Roman style.
The 500-square-metre church features intricate reliefs and mosaic paintings on its walls.
The church is also where Lê Phát An and his wife were put to rest. Their graves are made of marble with Renaissance style carvings. — VNS