VietNamNet Bridge – New technologies that work at the nanolevel could be used to produce nano materials for mass market products, Jean-Charles Guibert, chairman of MINATEC, one of the largest world-wide innovation campuses in micro-nano-bio technologies, said.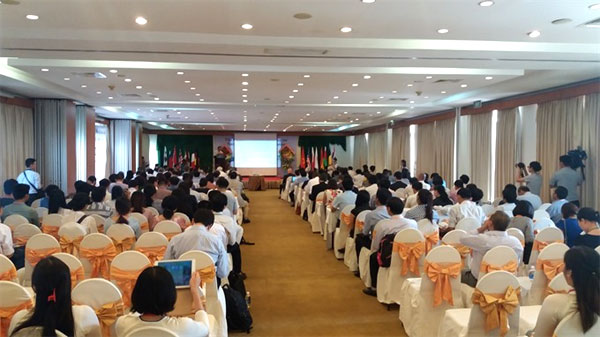 An international workshop on nanotechnology and its application is being held in Binh Thuan Province from November 9 to 11. — VNS Photo
Guibert told Viet Nam News that it was important, however, to set up intellectual property protection in order to use nanomaterials in products.
"Viet Nam's laboratories have the skills, but they need more equipment to develop Vietnamese intellectual property. In addition, it is important to ask public researchers and professors to transfer their knowledge to industry," he added.
Speaking at an international workshop that began on November 9 in Binh Thuan Province, he said that a favourite way to transfer knowledge to industry is via the creation of startups as they can move inventions into innovation for the market.
"This trend is supported by young researchers looking to develop their own company," Guibert said.
At MINATEC laboratories, materials are at the core of multiple applications fueled by innovative startup products, he said.
MINATEC campus teams have created more than 50 material-based companies, he said, adding that this supported the MINATEC business model, with strong income in terms of R&D contracts and licences. Today, 30 per cent of campus revenue is based on income from these startups.
"MINATEC collaboration with the Institute for Nanotechnology (INT) at Viet Nam National University-HCM City began in the 90s. The first step was to deliver a device for INT equipment, and then we set up common programme and training in science, technology and technology transfer. The goal is to develop a culture of researchers aiming to create startups. For instance, next week I will be at Vietnam National University-HCM City to deliver a talk on startup creation," he said.
The three-day workshop features a broad scope of important issues in nanotechnology, ranging from nanofabrication techniques and nanomaterials. Applications of micro-nanotechnology are also being highlighted.
Nae-Eung Lee, a lecturer at Sunkyunkwan University's department of advanced materials science and engineering in South Korea, spoke about the essential requirements for developing nanosensors for smart and wearable electronics.
Sensors are critical components in many smart wearable systems that can be used for bio-medical diagnostics, prosthetics, prognostics, preventive medicine and rehabilitation medicine, according to Lee.
Integration of various sensor devices into mobile smartphones is now being investigated, which would enable the analysis of bio-markers from various body fluids, monitor physiological parameters, and detect hazardous gases around humans, he added.
For these purposes, the development of various sensors with high sensitivity, accuracy, durability and stability is required, he said.
Nguyen Duc Hoa, vice chairman of Binh Thuan Province People's Committee, said that nanotechnology would help develop the economy in the fourth industrial revolution.
The International Workshop on Nanotechnology and Application, which ends on November 11, connects scientists, researchers, enterprises and investors, and strengthens co-operation in scientific research, training and nanotechnology, with the aim of making products that encourage sustainable growth, Hoa said.
The workshop was organised by the Institute for Nanotechnology at Viet Nam National University-HCM City in co-operation with the People's Committee of Binh Thuan Province and Commissariate à l'Energie Atomique et aux Energies Alternatives in France, supported by Viet Nam's Ministry of Science and Technology and other organisations.
As a satellite activity of the workshop, a forum on business opportunities for the micro-nanotechnology industry in Viet Nam will be organised to provide a chance for scientists, researchers and the business community to exchange business opportunities in the industry. 
VNS