VietNamNet Bridge – Vietnamese top swimmer Nguyen Thi Anh Vien is confident she will change her medal's colour at the upcoming Asian Games (ASIAD) in Indonesia.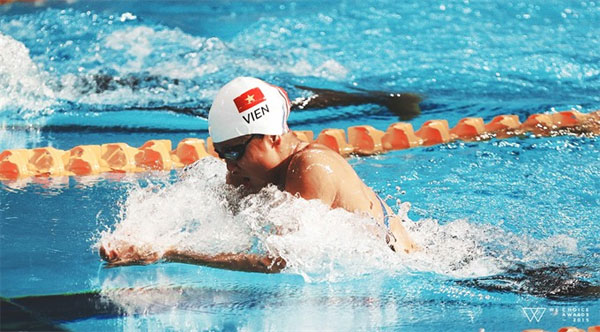 Going for gold: Vietnamese top swimmer Nguyen Thi Anh Vien is ready to compete at the upcoming Asian Games in Indonesia. — Photo kenh14cdn.com
It is the second time Vien has competed in the Asian event. In the Asian Games held in Incheon, South Korea four years ago, Vien brought home two bronze medals in the women's 200m backstroke and 400m medley.
Now she's gunning for gold.
To prepare for Indonesia's event, Vien, 21, has had intensive training in the US.
"The ASIAD is an arena which is quite different from the Southeast Asian Games," said Vien.
"I have to face strong rivals from powerful countries in swimming including Japan. I met Japanese swimmers in the recent world championships and felt their strength so I am under pressure.
"However, I have prepared carefully for this event for several years and now I am ready to compete. I hope I will do my best to gain gold medal to bring the joy for my family and country".
In Indonesia, Vien will compete in the 200m medley and 400m medley.
"They are my strong events so I focus them for the Asia's biggest tournament. My best result in the 400m medley is 4:36.85 which I set in the qualifying round of the Olympic Rio 2016. I hope that I will beat this," Vien added.
Her coach Dang Anh Tuan said: "Vien clocked a time of 4 minutes and 38 seconds in the 400m medley in a recent swimming event in the US. As planned, I set a target of 4:33 to 4:34 for her in the Asian tournament."
According to Tuan, Vien's arch-rival in the Games is Japanese Shimizu Sakiko. At present, the results of Vien and Sakiko is the same so Tuan said he hoped Vien can go better than before.
Vien, the golden girl of Vietnamese swimming, had a good year in 2017. She seized eight golds along with three records at the Malaysian Southeast Asian Games in August and then won two golds, one silver, and set a new record at the Asian Indoor Games and Martial Arts (AIMAG) contest in September in Turkmenistan.
Vien, from the southern province of Can Tho, won a gold medal in the 400m individual medley category at the 2016 Asian Swimming Championships in Japan.
In August 2015, she competed in the FINA Swimming World Cup and brought home one silver in the women's 200m medley and two bronzes in the 400m individual medley in the event's first and second legs in Moscow and Paris.
With an arm span of 1.78m, which is more than her height of 1.7m, Vien has all the advantages of a swimmer.
Before heading to Indonesia, Tuan shared that Vien was depressed as she was under pressure in the process of preparing for the ASIAD.
"We asked doctors to cure her during three months. Fortunately, she is fine and ready to compete in Indonesia," said Tuan.
"I think that Vien will overcome herself and complete her training goals," said Tuan.
Vien has undergone several training sessions at the GBK Aquatic Centre sports complex in Indonesia.
She is expected to gain medals for the Vietnamese delegation at the ASIAD 18, along with other Vietnamese swimmers such as Pham Thanh Bao, Nguyen Huu Kim Son, and Nguyen Huy Hoang.
The Vietnam sports delegation at the ASIAD consists of 532 members, including 352 athletes. It aims to snatch at least three gold medals, with at least one in an Olympic sports category. 
The ASIAD this year will be officially held in the two major Indonesian cities – Jakarta and Palembang – from August 18 to September 2, with the participation of athletes from 45 countries and territories.
At the previous Games, Vietnam pocketed one gold, 10 silver, and 25 bronze medals, ranking 21st in the overall medal tally.
Source: VNS