A ceremony to see off the Vietnamese delegation to the 2018 Asian Games (ASIAD 2018) in Indonesia will take place at 7pm on August 9, according to the Vietnam National Olympic Committee and Vietnam Sports Administration.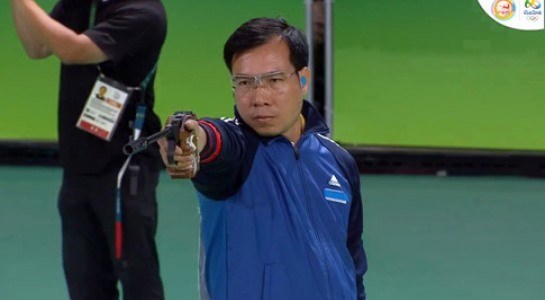 Marksman Hoang Xuan Vinh, one of the most prominent athletes of Vietnam at ASIAD 2018  (Source: soha.vn)
The delegation will consist of 523 people, including 352 athletes, said head of the delegation Tran Duc Phan at a press conference held on August 8. The athletes aim to snatch at least three gold medals. 
Prominent athletes include Olympic gold medalist sharpshooter Hoang Xuan Vinh, weightlifters Thach Kim Tuan and Trinh Van Vinh, runner Le Tu Chinh, long jumper Bui Thi Thu Thao, swimmer Nguyen Thi Anh Vien, gymnast Le Thanh Tung, taekwondo fighter Truong Thi Kim Tuyen, karatedo fighter Nguyen Thi Ngoan, cyclist Nguyen Thi That, and Wushu martial artist Duong Thuy Vi.
The country will also send a team of electronic sports (eSports) to the continental event.
At the press conference, Vice Chairman of the CMG.Asia Phan Ngoc Huy presented a sponsor package worth 600 million VND (about 25,780 USD) to the delegation.
The ASIAD 2018 will be held in the two major Indonesian cities – Jakarta and Palembang – from August 18 to September 2.
At the previous ASIAD in 2014, Vietnam won one gold, 10 silver and 25 bronze medals, ranking 21st in the overall medal tally.-VNA