VietNamNet Bridge – The Hanoi Buffaloes defeated defending champions Thang Long Warriors 75-69 in the Viet Nam Basketball Association (VBA) League on July 10.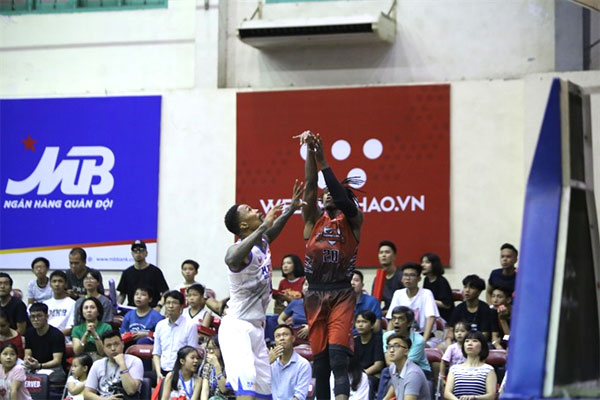 Hanoi Buffaloes vs defending champions Thang Long Warriors in the Việt Nam Basketball Association (VBA) League on July 10. — Photo VBA
The game was held at the gymnasium of the Ha Noi National University of Education.
With the support of fans at the home turf, the Warriors took the lead with the shining performance of Jaywuan Hill in the first minutes of first quarter.
However, Mike Bell and Le Ngoc Tu helped the Buffaloes come from behind to win 15-14. Bell and Tu scored six points each.
In the second period, with the leadership of captain Vincent Nguyen, the Buffaloes continued to beat the Warriors 35-30.
After that, the Warriors fought back strongly with the change of tactics of coach Predrag Lukic. They competed effectively and narrowed the gap to 34-35. However, Bell had a surge of strength, scoring 17 points to help the Buffaloes open the gap to 57-44.
In the last minutes, To Quang Trung raised the Warriors' hopes with three three-point shots to shorten the distance to 64-67.
However, the defence line of Warriors failed to maintain solidity and the hosts lost to the visitors 69-75.
With his outstanding performance, Bell of the Buffaloes won the MVP award of the game with 31 points, 19 rebounds and four blocks.
Meawhile, Hill of the Warriors also shone at this match with 28 points and nine rebounds.
With this win, the Buffaloes move to third place with four wins and two losses, while the Warriors are in fifth place with two wins and four losses.
The Buffaloes will next face the top team Cantho Catfish on July 14, while the Warriors will take on the HCM City Wings on July 19.
In the other match on July 10, the Cantho Catfish proved their power to beat Danang Dragons 88-78 and maintain their top position.
Source: VNS