The Vietnamese sport delegation attending the 2018 Asian Games (ASIAD) in Indonesia returned home in the warm welcome of thousands of fans in Hanoi on September 2.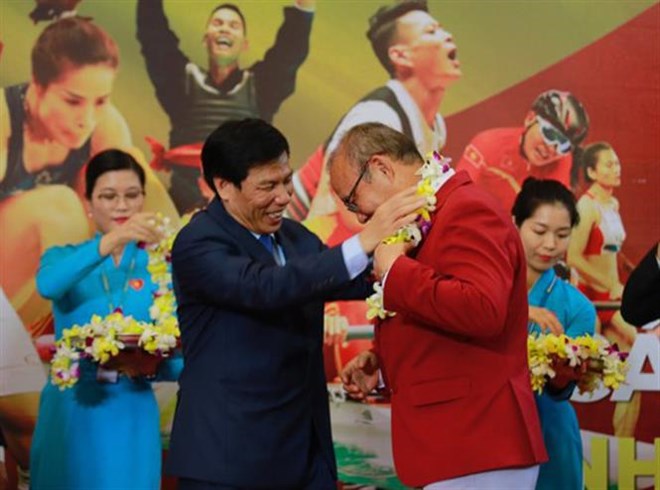 Minister of Culture, Sports and Tourism Nguyen Ngoc Thien (L) presents flowers to head coach of the Olympic men's football team Park Hang-seo
The delegation arrived at the Noi Bai International Airport at 1.45pm.
At a ceremony to welcome the athletes, Minister of Culture, Sports and Tourism Nguyen Ngoc Thien lauded their efforts in fulfilling the target, with 4 gold, 16 silver and 18 bronze medals.
Vietnam finished 17th in the medal tally of the continental sporting event. In addition, the Olympic team made history by earning a ticket to the semi-finals of the men's football and winning praise from international experts.
Thousands of fans waited for hours near the airport to welcome the delegation upon their return. They are proud of Vietnam's achievements and good sportsmanship at the ASIAD.
A programme titled "Proud of Vietnam" is being held by the Voice of Vietnam (VOV) from 5-7pm on the same day at the My Dinh national stadium to honour outstanding athletes.
The country sent 352 athletes to compete at the event. Vietnam pocketed four gold medals in pencak silat (men's tanding 70-75 kg and 90-95 kg), women's long jump and women's lightweight quadruple sculls categories.
The Asian Games is the world's second biggest multiple sports event after the Olympics. This year's edition, held in Jakarta and Palembang of Indonesia, has drawn 16,000 competitors and officials from 45 countries and territories.
At the 2014 ASIAD, Vietnam won one gold, 10 silver and 25 bronze medals, ranking 21st in the overall medal tally.-VNA