The Vietnamese delegation pocketed a total of 4 gold, 16 silver and 18 bronze medals, finishing 17th in the tally of the 2018 Asian Games (ASIAD) in Indonesia by 9.30pm on September 1.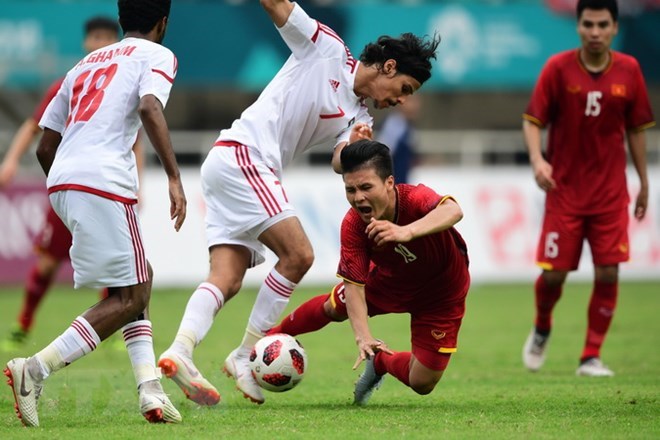 The match for the bronze medal between Vietnam (in red) and the United Arab Emirates (UAE) in the men's football of ASIAD 18 on September 1
Vietnam bagged one silver medal in the women's sepak takraw on September 1, the last official competition day of the continental sporting event.
The same day, Vietnam missed the bronze medal in the men's football after losing to the United Arab Emirates (UAE). 
The game went straight to a penalty shootout after the normal time ended with a 1-1 draw. Vietnam suffered a 3-4 defeat on the penalty round.
The Vietnamese delegation consists of 523 people, including 352 athletes. The four golds of Vietnam were in pencak silat (men's tanding 70-75 kg and 90-95 kg), women's long jump and women's lightweight quadruple sculls categories.
The Asian Games is the world's second biggest multiple sports event after the Olympics. This year's edition, held in Jakarta and Palembang of Indonesia, has drawn 16,000 competitors and officials from 45 countries and territories. 
At the last ASIAD in 2014, Vietnam won one gold, 10 silver and 25 bronze medals, ranking 21st in the overall medal tally.-VNA