VietNamNet Bridge – People in Hanoi are suffering the twin pains of hot weather along with water shortages in many areas.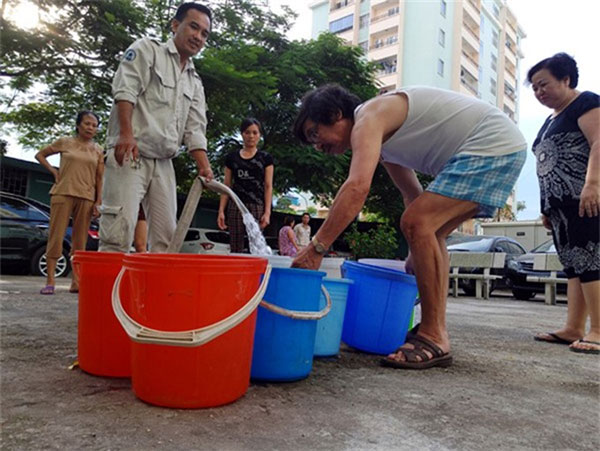 Residents in Dai Kim Residential Area in Hanoi's Hoang Mai District take buckets of water because of reduced water supply in summer. — Photo tintuconline.com.vn
Water has been cut off in several residential buildings in Thanh Xuan and Ha Dong districts such as Van Quan Residential Area, 103 Hospital's Buildings, Xuan Mai River Residential Area and Mulberry Residential Area, reported Lao Dong (Labour) newspaper.
People in Xuan Mai River Residential Area in Ha Dong had to go without water for several days. The reason was that a wastewater pipe broke, causing the wastewater to flow into the clean water tanks.
This forced residents to depend on water carried from other places by the buildings' developers.
Suffering the same situation, the lives of more than 1,000 people in two buildings of Van Quan Residential Area in Thanh Xuan District were difficult due to a sudden water cut-off, the paper said.
"Although the people had no water for three days, the Ha Dong Water Supply Company did not give any notice about it", said Le Tuan Anh, head of the building's management board.
"The sudden water cut off made the lives of people, especially old people and children, inconvenient and difficult", he said.
Living without water for many days, several households had to temporarily move to their relatives or friends.
"In the summer's heat, we could not live without water. Every day all my family had to take bath in a relative's house in My Dinh District, about 10km from my home", said Hoa Thi Man, a resident.
Other families who did not have relatives in Hanoi had to ask for water in neighbouring areas.
"We had to ask for buckers of water from neighbouring areas and save every drop", said Ha Thi Hue, a resident.
"Life was miserable due to water cut off in hot weather. How could this happen in a modern residential area in a capital city?" she said.
Avoiding responsibilities
People are suffering without water for many days but water supply companies are avoiding responsibility.
"Water cuts were not announced so the reserve tanks of the buildings ran out of water and the pumps blew out because they were set to automatic mode", said Le Tuan Anh, head of building management board of Van Quan Residential Area's buildings.
Meanwhile, the Ha Dong Water Supply Company, which is responsible for supplying water to the buildings' residents, said that they did announce the water cut-off to Phuc La Ward authorities.
Besides, the Da River – Ha Noi water pipe breakdown reduced water supply to the residents, said the company's representative.
Disagreeing with this, Anh said that the residents had signed water supply contracts with the company, so when an incident happened, the company must inform the residents – its clients.
"They informed the local authority but ignored their clients. Obviously, they were avoiding their responsibility", said Anh.
Many residents said that the water supply companies were unco-operative whenever they asked about water cut-off.
As usual, residents in several areas of Hanoi have warned the possibility of water shortage in summer.
The demand for water typically increases from 10 to 15 per cent during prolonged hot weather.
One of the reasons for the shortage of water is that groundwater resources are diminishing in recent years. 
Source: VNS