VietNamNet Bridge – Hanoi plans to install cameras at 15 locations at risk of flooding throughout the city, to better supervise the level of rising waters and put in place timely measures to avoid flooding during heavy rainfalls.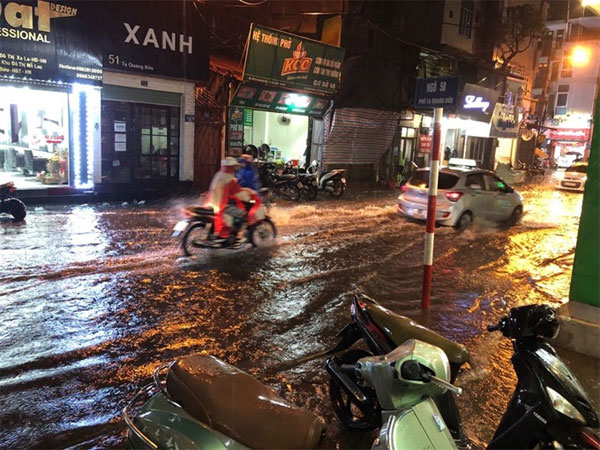 Many streets in Hanoi were flooded following two hours of torrential rain last Saturday evening. — VNA/VNS Photo Minh Nghia
At a conference on natural disaster prevention and control yesterday, director of the city's Department of Agriculture and Rural Development Chu Phu My said there were 15 flood-prone locations in the city, when rainfall averaged at least 50mm in two hours.
Three of the 15 locations likely to suffer flooding were located in Bac Tu Liem, Dong Anh, and Phuc Tho districts.
The remaining 12 locations were in Ba Vi, Phuc Tho, Dan Phuong, Thuong Tin and Phu Xuyen districts.
Most of the flood control system, however, had not received enough funding to keep pace with urbanisation, he said.
My noted that flooding was caused by the high density of construction and excessive waste caused by a lack of knowledge among the public about littering.
Currently, the city was investing in building a number of water drainage pumping stations in some areas. As planned, the pumping stations would be completed by 2020.
During this rainy season, Yen Nghia pumping station, which cost more than VND7.4 trillion and had the capacity to drain 6,300 hectares of districts in the west of the city, is to be put into operation. However, waterlogged areas are still likely to occur, in case of heavy rainfalls, he said.
At present, the city has only completed the construction of a drainage system in 77.5 square kilometres of the inner city in To Lich, Lu, Set, and Kim Nguu rivers, which could handle flooding of 300 mm in two days.
The remaining areas, such as in Long Bien, Ha Dong, Nam Tu Liem and part of the northern Tu Liem District, have not been funded for the construction of drainage systems.
Also, the Lien Mac pumping station, with a capacity of 90 cubic metres per second, Gia Thuong and Cu Khoi pumping stations, with a capacity of 65 cubic metres per second, are under construction.
My said that the Department of Construction planned to install 15 flood monitoring cameras to simulate flood-prone localities and provide solutions to reduce flooding.
The department would supervise workers, who work around the clock, to resolve water drainage problems during heavy rainfalls, and set up a hotline to receive information about incidents happening during the stormy season.
The city has asked authorised agencies to prepare the tools and transport to deal with floods, when needed. 
Source: VNS