VietNamNet Bridge – A severe shortage of funds and personnel has resulted in such loose management of pesticides in the southern region that most of the market is "out of control," agriculture officials say.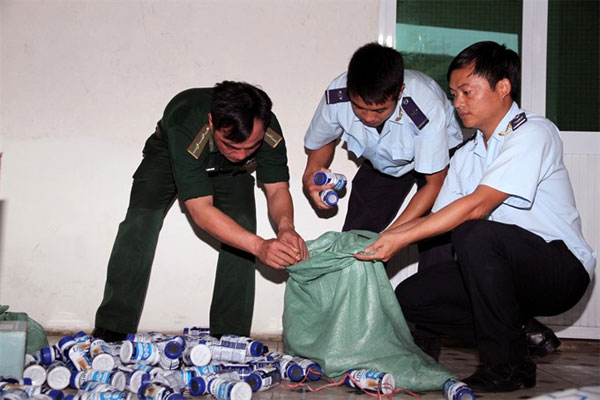 Customs officials of the central province Quang Tri check illegally imported pesticides without clear origins. — VNA/VNS Photo 
Each province has just two inspectors working for the Cultivation and Plant Protection Division. These two are responsible for managing and inspecting hundreds of small and big pesticide traders and thousands of products in the market.
In Binh Thuan Province alone, there are 780 shops and agents selling plant protection drugs spreading over nine cities, districts and towns.
The inspection office gets VND100 million (US$4,400 approx) every year for inspection of production and trading of pesticides and fertilizers. This allows for just two inspections a year, covering about 200 to 300 shops.
The remaining is "out of control," a Nong Nghiep (Agriculture) newspaper report says.
It cites Do Van Bao, head of the province's Cultivation and Plant Protection Division, as saying that the cost of testing a sample is about VND550,000 ($24.4). At each inspection, depending on the State fund for management of "plant protection products," about 12 to 15 samples are taken for testing.
Given that there are at least 1,700 products sold at the market, the number of samples taken for testing are insufficient to definitively ascertain if counterfeit or poor quality drugs are being stored and sold.
"Since we have a very limited budget, we only take a few samples for testing. We chose samples with suspicious signs of bad quality like curdled powder, sedimentation or precipitation," Bao said.
Dong Nai Province has a large agricultural area and diverse crops, so the demand for pesticides is large.
According to the provincial Cultivation and Plant Protection Division, there are 12 plants and factories that produce, bottle and package pesticides, 15 trading companies and branches, and more than 400 agents and shops located in 12 cities, districts and towns.
The two inspectors in the division face many difficulties. They only can conduct two inspections a year, covering 10 to 20 agents per district.
Meanwhile, the testing of pesticide quality takes a lot of time and money, resulting in many production and trading violations.
In the first 10 months of this year, the division imposed fines of VND66 million in 27 out of 95 cases of violations discovered.
Most violations relate to trademark and business certificates. The division has not been able to find any violation related to fake and poor quality products.
The Nong Nghiep report says that in recent years, most inspection reports from the Cultivation and Plant Protection divisions in southern provinces show less, and even no violations of counterfeit and poor quality pesticides, a highly improbable situation on the ground
The violations exposed are mostly the use of fake brand names, expired products, absence of business certification or expired certificates and the selling of pesticides in an establishment that is also selling food items.
"Fake pesticides commonly found in the markets are those carrying big brand names like Bayer, Syngenta, HAI and ADC. It is very difficult to detect the fakes by outside labels. Only producers can recognise them," Bao said.
"It is also very difficult for inspectors to recognize the fake products without proper co-ordination with enterprises and the police," he said, adding, "we cannot do that with very few people and little funding."
In fact, pesticides carrying fake labels of famous brands have been in the market for a long time. This problem is considerably worsened when the pesticide itself of spurious, low quality being sold cheaply.
Last month, a packaging company in HCM City's Tan Phu District was discovered printing fake labels of a well-known pesticide producer.
Some Cultivation and Plant Protection divisions in the Mekong Delta have admitted that they have not being doing an effective job of detecting fake pesticides and poor quality products.
Bui Van Kip, technical director of the Bayer Company, said that the divisions only focus on inspection and detection of shops and agents, while the root of the problem lies in production, which receives far less attention. 
VNS