Most experts voiced their disagreements over a scheme to impose a fee on cars entering downtown HCMC to reduce traffic congestion, heard a seminar on December 12.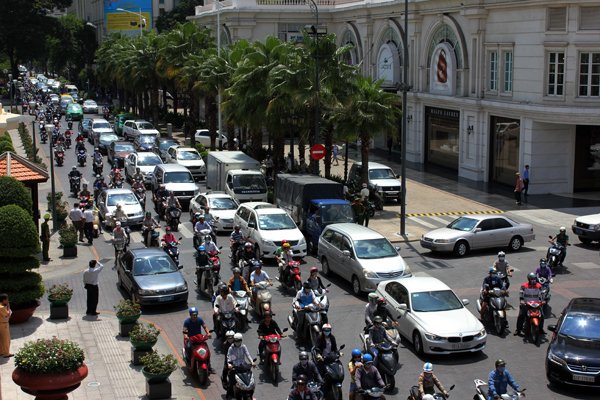 A downtown street is crowded with vehicles. Experts say a project to levy a fee on cars going into the city center remains unconvincing
According to Tien Phong Technology JSC (ITD) as the investor of the project, the fee would range from VND30,000 to VND50,000 (US$1.32-2.2) per time at rush hours, from 6:00 a.m. to 9:00 a.m. and from 4:00 p.m. to 7:00 p.m. To collect fees, the company would install 36 automatic collection booths on the streets leading to the city center spanning 930 hectares.
The project would need a total investment of nearly VND1.6 trillion (excluding value-added tax) with VND891.1 billion for equipment and VND40.7 billion for construction. Fee revenue would be used to improve public transport.
The project is expected to be piloted in December 2019 and officially operated in 2020.
Such a scheme fails to find backers as experts demanded more details.
Lawyer Truong Thi Hoa said road users under any regulations do not have to pay fees for causing traffic congestion. In addition, traffic congestion is widespread in the city, not only in the downtown area, so she proposed the project, if ever approved, should also be implemented in other districts besides districts 1 and 3.
She also cast doubt on the feasibility of the project.
Dong Van Khiem from the HCMC Fatherland Front Committee told the seminar that the investor should secure a consensus among local residents. It is also necessary to survey the number of vehicles entering the downtown area at peak and off-peak hours to bring out an effective solution.
According to Khiem, the investor reasoned the project would encourage people to use public transit such as buses and Metro Line No.1 instead of private vehicles but these two transport means alone would not be able to meet commuter demand.
Collection booths should not be located near build-operate-transfer (BOT) tollgates to avoid drivers' opposition. Parking lots near collection booths are needed to serve commuters using public transport means to the city center, said a representative of the Road and Railway Traffic Police Division under the HCMC Police Department.
Many other experts also asked if prices of products and services in the center of HCMC might increase due to the fees to be imposed, and how the proceeds would be used to develop public transport as suggested by the would-be investor.
Vo Khanh Hung, deputy director of the HCMC Department of Transport, said experts' ideas are useful to better the scheme before it goes before the city government.
ITD general director Lam Thieu Quan stated that the company has hired foreign consulting firms to appraise the project, and has collected data from drivers to assess impacts of the project on them.
As for economic benefits, when the project is implemented, vehicles would move 10% faster, generating economic benefits estimated at some VND245 trillion for the city within 15 years from an investment of VND1.5 trillion.
SGT