VietNamNet Bridge – After her first child died when she was just five months old, Nguyen Thi Th., a nurse from northern Thanh Hoa Province's Quang Xuong District, gave birth to a healthy baby girl. But her happiness soon faded as the baby cried continuously and refused to breastfeed. Th. took the child to the provincial hospital. Because no disease was detected, the baby was transferred to the National Hospital of Paediatrics (NHP) where doctors took samples and sent them to a centre in Japan. The results confirmed that Th.'s daughter suffer Amino acid metabolism disorder.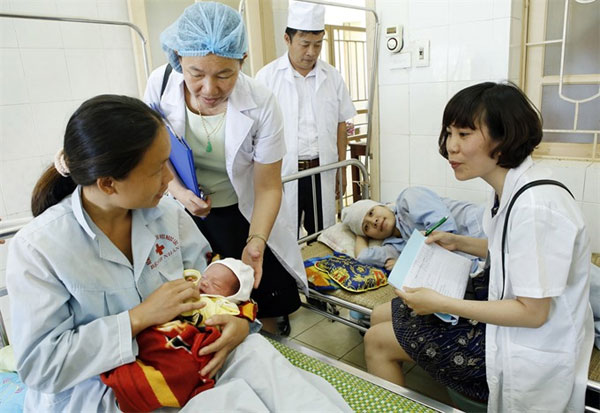 Doctors and an expert visit a mother and her baby at the Tho Xuan District General Hospital in the central province of Thanh Hoa. Experts believe that early detection will help reduce metabolic disorders that can prove fatal. — VNA/VNS Photo 
"Infected with the disease, she is very weak because she cannot eat meat. She can eat only vegetables, starch and cooking oil, and drink milk exclusively for children with metabolic disorder", Th. told the Ha Noi Moi (New Hanoi) newspaper.
The type of disease that afflicted Th.'s daughter is abnormally common among Vietnamese babies:  The rate of children with congenital metabolic disorders in Viet Nam is one per 500, well above the global average of one per 2,000, according to the World Health Organisation (WHO).
Dr Vu Chi Dung, head of the department of endocrinology, medical genetics and metabolism under the National Hospital of Pediatrics, said congenital metabolic disorder is caused by defects in the gene coding for enzymes that facilitate conversion of various substances into others. The disorder has more than 1,000 variations that affect the processing of galactose, protein and lipids.
The disease can cause damage to one or many organs in the body, leading to mental retardation and movement difficulties. There have been many severe cases that the killed babies soon after birth, Dung added.
According to the NHP, of 120 extremely rare metabolic disorder cases reported worldwide in the last 40 years, Viet Nam had 40.
The disease is extremely difficult to diagnose, in part because not all children display the same symptoms. The experience of Le Thi Mai H., a Hanoian, and her son, for example, differ greatly from that of Th. and her daughter.  
H.'s son weighed a healthy 3.3kg when he was born. He grew up normally as he was breastfed during his the first eight months. However, he started to vomit after he was given other food. Fearing for his health, H took him to many hospitals for examinations. Doctors said he just had a problem with his digestive system. It was not until he was 14 months old that doctors at the NHP diagnosed him with a urea cycle disorder.
Dung said that the disease was very difficult to identify. With symptoms such as vomiting, diarrhea, coma and convulsions, the disease is often misdiagnosed with many common diseases such as respiratory failure, infection and acute diarrhea.
Le Thanh Hai, director of NHP, said the number of children suffering congenital metabolic disease is on the rise. Of rare diseases, it is the most common.
The disease could not be detected during pregnancy and was very difficult to detect during early infancy, he said. It is often diagnosed late, leading to the high mortality rate among children.
According to the WHO, congenital metabolic disorders are among the leading causes of death for children under five in Viet Nam, causing 20 per cent of all infant deaths.
Dung said the treatment of congenital metabolic disorder is long-term, even life-long. 
In mild cases, parents can treat their children by paying attention to their diet and providing them with vitamin B1 and B12 supplements; their health will stabilize and they can develop normally.  
Dung said the key to saving children with congenital metabolic disorder is early detection.
"It was necessary for all infants to receive newborn screening test within 48 and 72 hours of the child's birth for early identification. A sample of blood is obtained from a 'heel stick' of the newborn and the blood is analysed for up to 50 diseases. This is the most effective way to detect the disease, allowing early intervention that can lead to significant reduction in disease severity and possibly even prevention of the disease," he said. While later testing may be effective, severe cases can kill babies soon after birth.
Since the hospital implemented this testing program in 2014, between 40 and 50 infants suffering from this disease have been diagnosed early and received timely treatment, helping to significantly reduce the mortality rate.
In addition to newborn screening, he said, parents should test themselves for latent metabolic disorders, as congenital metabolic disorders are more common among parents who have the disease. 
VNS