Drug addiction among young people has remained high and is the main cause of crimes among them, with half of young addicts having committed crimes, according to the Ministry of Labour, Invalids and Social Affairs (MoLISA).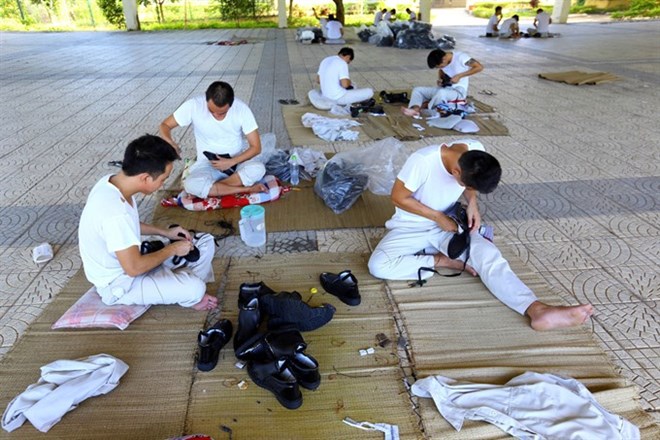 Drug addicts make shoes at Bau Bang Rehabilitation Centre in the central city of Da Nang
Nguyen Trong Dam, Deputy Minister of Labour, Invalids and Social Affairs, said that the ministry estimated that there are about 222,580 drug addicts nationwide, most of them under 35. Of that, 8 percent started using drugs when they were adolescents.
The rate of those using synthetic drugs, such as methamphetamine, ecstasy, ketamine, amphetamine or cannabis was rising annually, by an increase of between six and eight percent a year on average.
In big cities such as Dong Nai, Da Nang and Tra Vinh, about 80 percent of drug addicts were reported to use synthetic drugs. These drugs can cause symptoms such as physical and mental malfunctions, exhaustion and mental disorders. This could lead to dangerous behaviour, such as committing suicides or murder.
A report from the Centre for Supporting Community Development Initiatives showed that the average age of drug users in Hanoi and Hai Phong are 16, and in HCM City are 17.
Le Van Khanh, deputy head of the ministry's Department of Social Evil Prevention and Control, said that drug addiction is the reason for crimes by youngsters. About 50 percent of young drug addicts have committed crimes, a 100 times higher rate than those who are not drug addicts.
Most drug addicts are unemployed or have seasonal jobs. This contributed to the complicated nature of the crimes, he added.
Colonel Nguyen Sy Quang, chief of the staff division of the HCM City Police Department, said that drug addiction is the main cause behind the city's alarming crime rate.
Figures from the department showed that about 60 percent of robbers were found to be addicts. Those who were drug addicts are more aggressive and dangerous, he claimed.
Quang cited a fatal incident in May, in which two street knights were stabbed to death while three others were seriously wounded when they tried to stop two motorbike robbers in HCM City's Cach Mang Thang Tam Street.
Nguyen Tan Tai, 24, and Nguyen Hoang Chau Phu, 24, the two suspects that allegedly stabbed the street knights, were detained and prosecuted for murdering and stealing. They were reported to be drug addicts. The other suspect, Ngo Van Hung, 32, was being prosecuted for concealing a criminal.
Change on approaching the most-likely-to-be-addicted Dang Thuan Phong, deputy head of the National Assembly's Committee for Social Affairs, said that as in many other countries, Vietnamese teenagers were the main target for drug gangs. However, drug education for young people has remained ineffective.
Most adolescents thought drugs would get them get high without any harm. Thus, when they became drug dependent, they would be ready to do anything to satisfy their addictions.
Phong said that the high crime rate among youngsters was a wake-up call to the community, and education must be more practical.
Dr Khuat Thi Hai Oanh, deputy director of the Centre for Supporting Community Development Initiatives, said that general messages about the harms of drugs have proven ineffective.
According to experts, agencies should work together to focus on practical measures. They should pay attention to adolescents living with drug addicts or in danger of falling into a drug ring, and help equip them with knowledge to stay away from drugs.
Involving families was also vital to help young people avoid drugs. Half of young drug users had unhappy families or were abused by their own families, said experts.-VNS/VNA