VietNamNet Bridge – Meningococcal disease is not new, but recently, drug-resistance in children with meningitis has been increasing, doctors in HCM City have warned.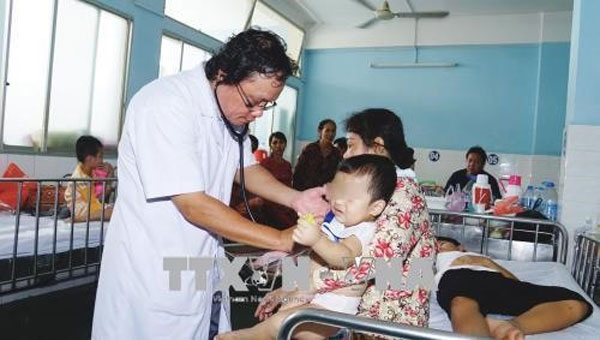 A doctor at Children 1 Hospital, HCM City, checks a child with meningococcal disease. VNA/VNS Photo
Doctors fear the disease would have heavy consequences for children, while the supply of vaccines is not sufficient to meet demand.
Meningococcal disease is an infection caused by the bacterium Neisseria meningitidis. This bacterium can cause serious and sometimes fatal diseases, including meningitis (infection of the brain lining) and meningococcal septicemia (infection of the blood).
After falling from a set of stairs, Le Nguyen Gia Bao, 16 months, living in Binh Tan District, suffered a cracked skull. The patient was treated at HCM City's Nhi Dong 1 (Children 1) Hospital however, after a period of treatment, he fell into a high fever.
After several consultations and examinations, doctors concluded that the child had meningitis caused by pneumococcal bacteria.
Dr. Truong Huu Khanh, chairman of the Infectious and Neurological Department at Children 1 Hospital, said that because of the cracked skull, pneumococcal bacteria had attacked the patient's brain.
At the Infectious and Neurological Department, about 20 children are currently being treated for meningitis. At times, the department receives and treats up to 50 children with meningococcal disease.
Since earlier this year, the Department of Emergency and Respiratory Care, at HCM City Hospital for Tropical Diseases has received five child patients with severe meningitis due to pneumococcal bacteria.
On average, every year, 30-40 children with pneumococcal meningitis are hospitalized at the HCM City Hospital for Tropical Diseases.
The Infectious Diseases Department at the HCM City Children's Hospital has received five child patients with meningitis, including a 13-year-old boy from Soc Trang who was in critical condition.
Doctors said that the meningococcal disease caused by the main pneumococcal bacteria include Hib, Ecoli and brain tissue.
Meningococcal meningitis and Hib were quite rare because of good immunization, while Ecoli meningitis mainly affects children under three months old.
In recent years, the number of patients with meningococcal disease caused by pneumococcal bacteria has increased steadily, accounting for 50 per cent of the total number of patients hospitalized for meningococcal disease.
In addition to the rapidly increasing incidence of pneumococcal meningitis, one of the most worrying concerns among physicians today is the resistance of pneumococcal bacteria.
Dr. Truong Huu Khanh said the current resistance is very severe, once resistant bacteria have attacked the meninges it's very difficult to treat, so doctors must use a combination of antibiotics for treatment.
At the Children 1 Hospital, some child patients were treated by mechanical ventilation for a long time and the cost was very high.
Dr. Nguyen Tran Nam, head of the Infectious Diseases Department at the city Children's Hospital, said pneumococcal meningitis can cause consequences such as abscesses and infections, some of which can lead to rapid death.
As a preventive measure for pediatric patients, the doctor must use high doses of antibiotics for 21 days according to the regimen. These antibiotics must be imported at high prices, but now the rate of resistance of this bacterium in Vietnam is very high so the treatment by drug is difficult.
In addition, antibiotics used to treat meningitis always require large amounts with long treatment. Many severe cases have to be treated for several months and the cost is very expensive, at up to over VND100 million / a case.
After treatment, Dr. Nguyen Tran Nam analysed that the resistance meant patients were responding poorly and were left with sequelae such as deafness, blindness, limb weakness, epilepsy, cognitive disorders and less awareness.
Vaccination is the main preventive measure that doctors recommend.
However, in HCM City, the manufacture of the pneumococcal vaccine (Pneumo 23 vaccine) that can prevent 23 serotypes of Streptococcus pneumoniae, is temporarily stopped.  
Meanwhile, the supply of Synflorix vaccine that can prevent 10 serotypes and only for infants from 2 months to 5 years still doesn't meet the increasing demand.
"If we don't have enough vaccines and many children don't get vaccinated, the risk of pneumococcal disease will be widespread and drug resistance will increase," said Dr. Truong Huu Khanh. 
Source: VNS