VietNamNet Bridge – Waking up after five days in a coma at Hanoi's Bach Mai Hospital, a 16 year-old girl does not recognise anyone, not even her father.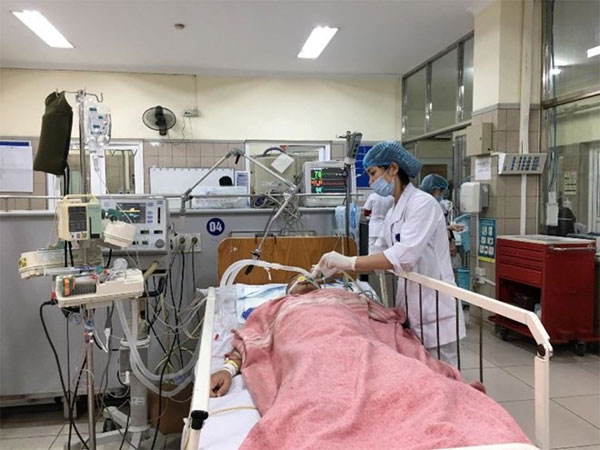 A 41-year-old patient suffering from severe methamphetamine shock is treated at Bach Mai Hospital's Poison Control Centre. — VNA/VNS Photo
No matter what anyone asks, she has the same answer: "I don't know. I don't remember anything."
She is one of two patients currently being treated for methamphetamine shock at the hospital's Poison Control Centre.
Nguyen Trung Nguyen, who is in charge of the centre, said that the girl was completely unconscious when she was moved here from a provincial hospital. Her nerves and heart have been affected.
"The girl has come out of the coma but she is not able to recognise everything properly," the doctor said.
Her father, Tran Thanh Minh, traveled more than 2,000km from his hometown in southern Kien Giang Province to take care of his daughter.
He said that his daughter was working as a cosmetics seller in northern Hoa Binh Province. Each month, she sent VND2.5 million to her family. On hearing of her coma, the whole family was shocked to learn that the girl was addicted to synthetic drugs.
"I feel really sad. My daughter no longer remembers me," he told the Lao Dong (Labour) newspaper.
The centre is treating another serious case of methamphetamine shock. The 41-year-old male patient experienced brain, kidney and heart damage as a result of the drug.
Dr. Nguyen said that poisonous elements included in the drug directly attack the heart and cause heart pain and kidney failure.
"Addicted people experiencing delusions will cause risks to themselves and community members. They may kill others if they have weapons. Doctors have been attacked by addicted people in emergency cases," he said.
Nguyen said that methamphetamine use pose tremendous risks both when patients are directly under its influence and when they are addicted and use it chronically.
"Acute addiction will cause after-effects. Those exposed to chronic addiction stand a high risk of heart failure and have a little chance of being saved," he said.
Recently, the centre has received patients suffering from shock with synthetic drugs such as amphetamines, khat leaves and lysergic acid diethylamide. Those admitted to hospital are mostly students and adolescents.
The symptoms end with not only neurosis and illusions but also more severe reactions including coma and heart beat and blood pressure disorder, threatening patients' lives.
Two people treated at the centre recently died of complications to their hearts and nerves after taking methamphetamine.
According to the Ministry of Health's 2017 report submitted to the Prime Minister, there is an increasing trend of using Amphetamine-Type Stimulants. Methadone treatment is not effective with those taking synthetic drugs.
In many localities, such as Dong Nai Province and Da Nang City, nearly 90 per cent of newly-addicted people take Amphetamine-Type Stimulants.
According to the Ministry of Public Security, 210,751 people were addicted to drugs as of 2016. Of the total, 20,778 people were addicted to synthetic drugs.
Doctor Nguyen said that there are new types of drugs hidden in medicine and games that are not easily recognised.
Parents should watch their children closely for abnormal signs.
"Young people should stay away from drugs and drug abuse because drugs not only affect their health, career and future, but drug takers may also lose their lives at any time if they suffer from acute poison. The poisons may spoil the nervous system, the heart and organs," he said. 
Source: VNS