VietNamNet Bridge – Facing the World is a British-based charity group which aims to give new life to severely disfigured children. The charity Voluntary CEO and Trustee Katrin Kandel will travel to Viet Nam this month to raise donations to train doctors, provide machinery and perform life-changing operations for children.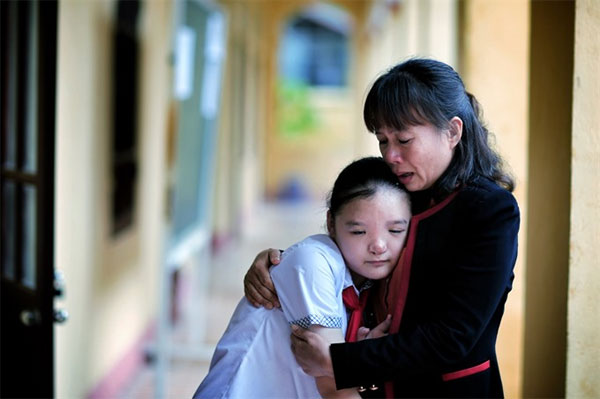 Long wait: Mother Cao Thi Hoan waited since her daughter's birth to get her a face she loves. 
Six months after an operation, Cao Thi Hoan's youngest girl, Bui thi Thu Giang is confident enough to ride to school on the back of her twin sister's electric bicycle.
Giang is enjoying her new face, which was put together in a 10-hour operation last April by MD Simon Eccles from the Facing the World team and Dr. Nguyen Hong Ha, head of the Department of Maxillo-facial, Plastic, Aesthetic Surgery at Viet-Duc Hospital in Ha Noi.
"When I gave birth to my twin girls, my family did not let me hold Thu Giang that day," Hoan said. "But then I said, I will love her no matter what!"
Giang was born with hypertelorism, a birth defect that was not life-threatening, but it affected the quality of life. She went through four plastic surgery operations at two, four and seven and 10 years at Ha Noi's Viet Nam-Cuba Hospital, until her doctor told Giang's mother, that it was all he could do. He would not touch the girl's skull, which was vital to give her a new face.
"I'm forever grateful to Dr Lap, director of Hong Ngoc Private Hospital in Ha Noi," Hoan said. "He looked online and off for all the possible ways to help us. But going overseas was out of our reach. He told us to wait for international doctors who come to Viet Nam."
Hoan said they waited for two years, passing along chances to have her operated on by other doctors to wait for the team from Britain. 
"At 8am, I accompanied my little girl to the operating room. She held onto me really tight. And she cried, 'Mum, I'm so scared. May I give up now, I accept my fate. I don't want to look beautiful any more.'  
"I cried my heart out with her. As I looked up, everyone in the operating room were overcome. I remember seeing two British doctors crying, their hands holding onto their shirts."
Ten hours later, Hoan heard from Dr Lap what she had always wished to hear: "The operation was successful." A little after 9pm, she was allowed into the post-operating room.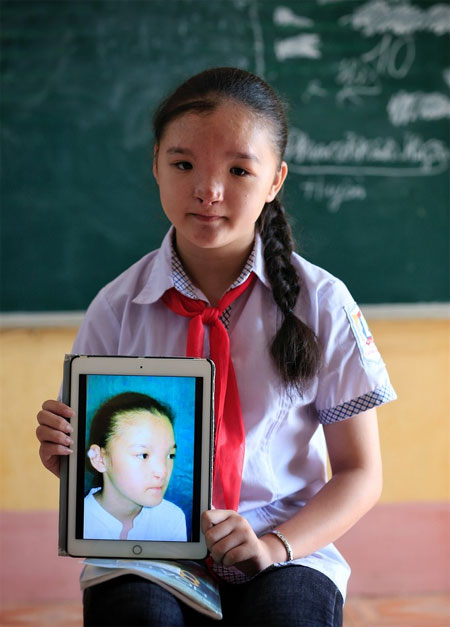 Before: Giang holds a photo of herself before the April operation. — VNS Photos: Viet Thanh
Facing the world
Facing the World first came to Viet Nam as a partner with another charity to operate on children at Da Nang Hospital. It has been active in the country since 2008 and next year marks the tenth year of its operations in Viet Nam.
"We would like to run more missions throughout Viet Nam to all the major medical centres, bring more Vietnamese doctors to Britain for fellowships and be able to buy and donate key pieces of medical equipment, which are game changers," Ms Katrin Kandel told the Viet Nam News in London.
In the pril operation mission, only 60 operations were performed out of more than 300 applications from children with facial deformities. Thu Giang was a difficult case.
The doctors had to open her frontal skull bones, remove extra bone in the centre and reposition the eye sockets. This operation involved not just tissue, but bone, skin, nerves and muscles.
Giang was operated on by one of the best cranio-facial surgeons in the world, Dr Simon Eccles. He was named one of the top plastic surgeons in 2012 for his work at Chelsea and Westminster Hospital in London.
More recently, he was elected Honorary Secretary for the British Association of Plastic, Reconstructive and Aesthetic Surgeons. His role includes responsibility for the education of plastic surgeons in Britain. He also travels the world to reconstruct children with birth deformities or are disfigured.
After his trip to Viet Nam, Eccles wrote briefly in an e-mail. "Vietnamese colleagues were dedicated individuals. They were very caring to their own heritage and communities, keen to learn and to engage, and knowledgeable."
Other visiting doctors also appreciated local doctors, yet commented on the lack of up-to-the-standard medical facilities, such as operating theatres, hygiene standards and cross-infection control.
Dr Niall Kirkpatrick, chairman and medical director of Facing the World, said their were equipment shortages.
"Why did you decide to move from banking to charity work?
I had already moved from law to banking early on in my career. I want to give something back.
I had an extremely successful banking career. The time was right for me to do something different. Through the charity's activities, I can see a way to make a real difference.
Viet Nam has had an incredible war-torn history.
My parents were ardent supporters of the anti-war movement. Once I learned more about the country's history and then had the opportunity to go there and meet the people, I felt strongly that I wanted to do what I could. I put my hand up a few years ago to volunteer as the CEO. I do this 24/7″
Katrin Kandel, FTW Voluntary CEO and Trustee
Equipment topnotch
"Equipment donations are key to our programme," Ms Katrin Kandel told Viet Nam News. "Since the accelleration of our programme in 2015, we have been able to donate more than VND15 billion (over 500,000 pounds)  of equipment, a figure that is increasing rapidly. We have donated the top of the line in every category.
"We are working towards providing best maxillo-facial equipment," she said.
Ms Katrin Kandel said Facing the World worked closely with partners to identify equipment that was absolutely necessary. She said the charity had arranged with Foundation Direct Relief, a US-based group that provides medical aid to people whose lives are affected by poverty and emergencies. This partnership will enables the charity to donate more basic medical supplies.
Ms Kandel said she hoped to sign an MOU with Viet Nam Red Cross to distribute the much-needed basic equipment to Red Cross clinic networks and rural and remote hospitals.
While the top-notch equipment can make a huge difference in treatment, assisting doctors and easing pain for patients is a much more important role for the visiting doctors.
Doctor training
Dr Ha at the Viet-Duc Hospital, is on a two-week training trip to Chelsea and Westminster Hospital and St Thomas Hospital. "It is a good partnership we are building with Facing the World and British doctors," he said. "FTW brings to Viet Nam top plastic surgeons from the best hospitals in Britain."
Ha said the UK-Viet Nam team jointly operated in Viet Nam, which meant 10 Vietnamese doctors joining in the operations. Other doctors from other hospitals in Ha Noi and northern provinces learn from a television screen in the next room. They can also question the team.
"When Vietnamese doctors go to Britain for training, they are not licensed to operate, so it's very important that the actual operations take place in Viet Nam," he said.
"This helps all parties involved, including our doctors and patients. FTW also helps with medically challenging cases, training doctors and later even training nurses in post-operation care."
Since the programme started, 28 doctors have visited Britain for training. Kandel said she would like to get more top British and Vietnamese hospitals involved.
Facing the World is registered in Viet Nam and is run with a five-year business plan. It plans to raise VND30 billion (1 million pounds) in donations, train 60 doctors over a five-year period and to operate 18,000 life-changing operations.
"Our biggest accomplishment," Ms Katrin Kandel said, "is the development of a network of doctors who work closely with their British counterparts. The friendship and professional camaraderie have developed alongside the trust. This is lasting and sustainable."
At her home in Thanh Son District near a national park in Phu Tho Province, Giang enjoys her life at school and at home. Showing us a complete Lego castle on her desk, her mother said: "After the operation, Dr Lap sent her a Lego set as a gift. But it's also his test to see if Giang can maintain her memory. She did it well."
At school now she made two close friends. She told her mum, "When I grow up, I want to become a doctor!".
Nguyen My Ha in Ha Noi and Pham Diem Quynh in London
VNS