Solar power systems on the roof of houses in Vietnam can help households reduce 50 percent of their bills for monthly power consumption, contributing to protecting the environment, affirmed experts at a conference in Hanoi on August 22 to review one year of implementing documents on developing solar power in Vietnam.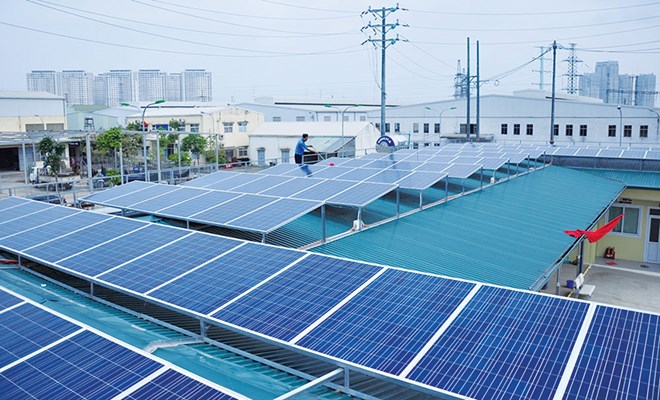 A report from the Ministry of Industry and Trade said that after one year realising the Prime Minister's Decision 11/2017/QD-TTg on encouraging the expansion of solar power projects in Vietnam and Circular 16/2017 TT-BCT issued by the Ministry of Industry and Trade on developing the projects and model power purchase contract, 100 projects have been added into provincial and national planning.
The projects have a total capacity of 4.7 GW in 2020 and 1,770 MW after 2020. Of the total, 58 have been approved by the ministry, while nine others have complete power trading contracts.
As of July 2018, 748 rooftop solar power projects with a combined capacity of 11.55MWp were developed.
Calculations go that with 100 million VND (4,300 USD) spent on six solar panels with a lifetime of 20-25 years, each household can save 1.5 million VND (64.5 USD) each month.
Nguy Thi Khanh, Director of Green UD, the coordinator of the Vietnam Sustainable Energy Alliance, said that a greenhouse programme is underway to encourage the installation of solar system on houses' roof.
Khanh held that solar power technology is reliable and cheaper than fossil fuel, as well as better for both environment and human health.
However, she also pointed to difficulties facing solar power projects and the installation of rooftop system, including problems in power prices, regulations in tax and standards.
A representative from the Ministry of Industry and Trade said that after June 2019, the ministry will issue a new solar power price chart applicable for solar power projects, while the ministry will propose adjustments to a decision to deal with matters related to tax and special bidding and direct purchase contract policies for such projects.-VNA