VietNamNet Bridge – The Quang Trach thermoelectricity plant, a project of Electricity of Viet Nam (EVN) in the central province of Quang Binh, is seeking final agreement from governmental agencies to dump 2.5 million cubic metres of waste mud into the local sea area.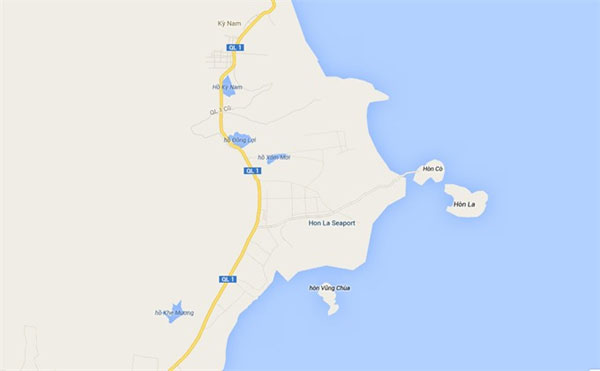 Map view of the dumping targeted site. — Photo zing.vn
According to Viet Nam Environmental Administration, the dumping has gotten an initial go-ahead from the Ministry of Natural Resources and Environment in response to a request from the Quang Binh People's Committee.
Nguyen The Dong, the administration's deputy director, said that the ministry has yet to reach a final agreement on the dumping and is waiting for the completion of the project's environmental impact assessment (EIA) report.
According to Dong, local authorities and the project investor EVN proposed the targeted ocean site for the dumping and they had investigated the possible impacts to the natural habitat and livelihood of the nearby community.
"The ministry has formed a team for examining the EIA report and they will have their own investigation at the targeted site," Dong told Thanh Nien (Young People) newspaper.
Vu Truong Son, deputy director of the ministry's Administration of Sea and Islands (ASI), said the dumping would need to gain consensus from the ASI as well.
Under the proposal prepared by EVN, a total of 2.5 million cubic meters of waste mud taken from the construction of Quang Trach thermoelectricity plant would be dumped into the ocean zone 3.5 nautical miles to the west of Hon La Island.
Tran Phong, director of Quang Binh's Department of Natural Resources and Environment, said the site was chosen because its close proximity to the mainland would reduce the cost of the dumping. He added that the targeted site was neither in any nautical routes nor a marine reserve.
The plant project has a total investment of US$1.7 million and its construction started in 2011. It will have a capacity of 1,200MW once it is officially operating. 
Source: VNS