VietNamNet Bridge – Industrial waste has been piling up on several streets in HCM City, creating pollution and hurting the quality of life of local residents.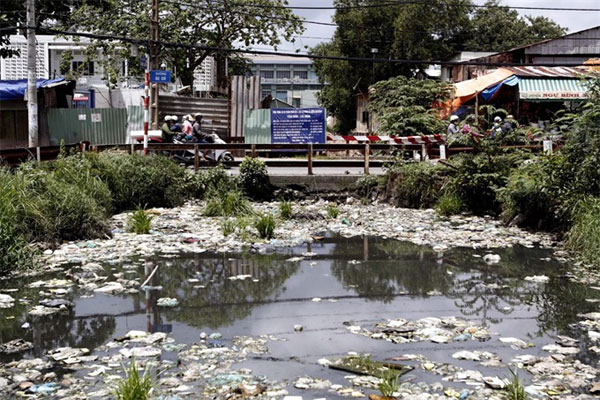 The Tan Hoa – Lo Gom Canal across Tan Binh District, one of the five biggest canal systems in HCM City, is severely polluted by untreated wastewater and solid waste. — VNA/VNS Photo Hoang Hai
Rags, sponges, leather, plastics and even medical waste such as glass containers and vials were dumped together with domestic waste on the streets in Tan Phu, Binh Tan districts and Districts 12, creating heaps of waste that emit a strong foul odor, Thanh Nien (Youth) newspaper reported.
"Plastic bags and fabric dust were flying around every time when the wind blows and sometimes they even got into our houses," said Kieu Thi Nga, a resident on Binh Long Street in Tan Phu District. "We have to wear masks all year long."
The foul odor sometimes gets too much to bear, and some families have had to move away, said Trinh Van Thai, another resident.
The industrial waste was deposited on the streets in secret.
"Some people sneaked out at night, about 1 to 2am, and dumped the waste," he said.
"Sanitation workers used to take the trash away, but now they said they are not allowed to take industrial waste and just left it here," he said.
Environmental sanitation companies were in fact not allowed to collect and transport industrial waste, according to current regulations, a leader of such a company in Tan Phu District said.
"We can only do it if the waste generators sign a contract with us and ask us to do it," he said.
"We know industrial waste is lying around but all we can do is to gather them together. We can only take them away if someone orders us to do so, otherwise we would get fined."
Although it was the responsibility of local authorities to keep track of the sneaky litterers, they found the task "very difficult", said Nguyen Gia Thai Binh, vice chairman of the People's Committee of Binh Tan District.
"We sent officials and patrols to guard the waste hotspots until midnight, but as soon as they left, someone went there and dumped the waste," he said. "We recently caught 13 litterers red-handed."
Even 24-hour supervision would not work unless local authorities were able to keep track of the waste discharge process of industrial establishments in their areas, said Nguyen Thi Thanh My, deputy director of the HCM City Department of Natural Resources and Environment.
"District and ward leaders should keep a close eye on facilities that generate industrial waste," she said.
"Strict sanctions should be imposed if they refuse to sign contracts with environmental sanitation companies to collect and remove the waste," she said.
Tran Vinh Tuy, vice chairman of the HCM City People's Committee, said he ordered leaders of the 24 districts in the city to step up and take responsibility for inspecting and guiding industrial facilities on the waste discharge process.
"Local leaders found negligent in their duties and allowing new dumping sites to emerge will be held accountable by the municipal authorities," he said.
He has also ordered the environmental department to collaborate with the leaders to clean up all industrial waste dumps within a week.
Source: VNS