VietNamNet Bridge – Land subsidence caused by excessive groundwater extraction and rapid urbanisation is worsening flooding in HCM City.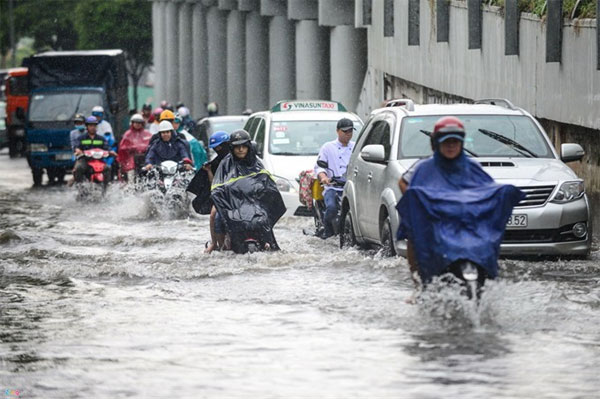 Heavy rains often flood Nguyen Huu Canh Street in HCM City's Binh Thanh District. Many roads in the city are suffering from land subsidence. VNA/VNS Photo Manh Linh
Experts have warned of subsidence problems for years, citing Jakarta, Indonesia, which is sinking at the fastest rate of any city in the world, around 2.5 metres over the last 10 years.
HCM City will face the same problem as Jakarta if it does not take action as soon as possible, they have said.
Le Van Trung, vice chairman of the HCM City Association of Geodesy, said land in the city had been sinking for decades, affecting the local economy and people's livelihoods.
A report from the HCM City University of Technology said that complete or partial subsidence over the last 20 years had occurred in the city.  
Land subsidence of 5-10mm has occurred in Binh Chanh, Binh Tan, Thu Duc and Nha Be districts and districts 2, 7, 8 and 12. Meanwhile, sea levels have risen by 3mm during the same period.
Flooding now occurs on many roads, especially Nguyen Huu Canh Street in Binh Thanh District, among others, he said.   
Subsidence first occurred in districts 6 and Binh Thanh, but now has spread to other districts, including districts 7, 8, 9, 11 and 12, as well as Tan Phu, Binh Tan, Go Vap, Hoc Mon, Binh Chanh and Nha Be.
The problem has become critical, affecting the city's sustainable development, particularly drainage measures, Trung said.
Nguyen Phat Minh, of the HCM City University of Natural Sciences, said land subsidence had caused severe ground pressure and prevented rain from filtering down to underground aquifers.
Land subsidence also occurs when large amounts of groundwater are withdrawn from aquifers, which are bodies of permeable rock that can contain or transmit groundwater. 
The water is partially responsible for holding the ground up, but with its absence, the ground sinks.
HCM City authorities and local people are not aware that that falling land levels are an urgent issue, experts said. 
Building dikes after floods is an inadequate response to land subsidence as it fails to solve the cause of the problem. Instead, long-term planning must take land subsidence into account. 
Solutions
The city is producing future scenarios based solely on the consequences of rising sea levels, but land subsidence is a far more urgent problem. 
Globally, the sea is rising by three to 10mm a year, while land levels can fall by up to 10cm a year. By 2070, sea levels are expected to have risen by 50cm.
Nguyen Thi Thanh My, deputy director of the city's Department of Natural Resources and Environment, said the department would work with district authorities to restrict issuance of license for businesses to exploit more than 3,000 cubic metres of groundwater.
In addition, households will also be restricted from exploiting groundwater if they are supplied with enough fresh water, she said.
Architect Ngo Viet Nam Son said groundwater extraction in connection with urbanisation and population growth is the main cause of severe land subsidence in mega-cities like HCM City, Jakarta and Bangkok. 
One of the solutions is to save more space for planting trees and water surface area for urban area.
Urban areas can also be developed in weak soil areas, but more space is needed for trees and surface water, which should cover 50-60 per cent of the area, according to Son. 
Without immediate action, the subsidence combined with rising sea levels will put pressure on the city's drainage system and flood defences.
Experts said HCM City should halt urbanisation of low-lying, weak land, and limit construction of new underground water projects.
City authorities should also ensure a sufficient supply of surface water to meet demand from new urban and industrial areas. 
At the same time, the city should look at how to funnel rainwater into aquifers and lakes, instead of letting it build up and cause floods.
Land subsidence is causing more damage every year, but the problem is not viewed seriously in many countries. 
Land subsidence can also lead to major economic losses such as structural damage and high maintenance costs for roads, railways, dikes, pipelines and buildings. 
The total cost worldwide could be billions of US dollars per year, according to experts.
Source: VNS