VietNamNet Bridge – Wetlands play a major role in preserving biodiversity and fighting climate change in Vietnam, but the country is yet to establish firm strategies on how to preserve them.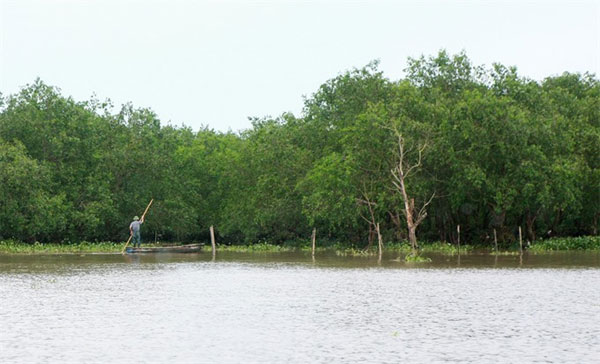 An area of mangroves on the Van Uc River in the port city of Hai Phong. Mangroves are classified as coastal wetlands in Vietnam. — VNA/VNS Photo Lam Khanh
There are about 10 million hectares of wetlands in Vietnam spreading across eight ecological zones, including the Red River Delta and Cuu Long (Mekong) Delta. They are classified into two types: coastal wetland (including estuaries, mangroves, sandy beaches, coastal lagoons, coral reefs, seagrass beds), and inland wetland (including rivers, streams, ponds, lakes, swamps).
With 12,000 aquatic organisms living in wetlands near the sea, brackish water environments and inland wetlands, as well as 300 vertebrate species whose life cycles are associated with wetland ecosystems, wetlands play a major role in gene preservation and biological productivity in water environments, according to the Viet Nam Environment Administration (VEA).
The fact that mangroves help with coastal protection and development of mudflats and coral reefs help with the creation of islands shows their importance fighting climate change.
Aquatic products have greatly contributed to the country's agricultural production and the national economy. In 2010 alone, the agriculture sector accounted for more than 20 per cent of gross domestic product (GDP), 28 per cent of export overturn of the country.
Despite the great benefits the wetlands bring, Vietnam has not had specific regulations on use, management, development and preservation of the areas.
Uncoordinated management planning has led to disappearance in the country. About 220,000ha of mangroves were lost between 1943 and 2005, most of which were cleared and turned into aquaculture production areas, Vietnam News Agency reported.
Arbitrary constructions of dams and reservoirs on major rivers in mountainous areas not only submerged alleys but also affected the living habitats of migratory and aquatic species.
Vietnam is at risk of losing a lot of significant natural areas. Climate change scenarios by the Ministry of Natural Resources and Environment (MONRE) show 20-30 per cent of the lowland area of the Mekong Delta and 11 per cent of the Red River Delta will be submerged by 2100 if the sea level rises by 75cm to 1m that year.
It means that 78 important natural habitats – including 36 conservation areas, eight national parks and 11 natural reserves – and animals and plants living there will be affected.
In response to the situation, VEA has proposed biodiversity preservation measures.
First and foremost, a national strategy on the conservation and sustainable development of wetlands should be developed, based on which each locality will come up with specific, feasible action plan of their own, VEA proposed.  
A map of wetlands in the country should be created with different scales, it proposed. For example: 1:1,000,000 for the whole country; 1:250,000 for the ecological areas; 1:100,000 for each province, and 1:10,000 for each wetland area.
Specific management regulations regarding aquatic resources from the wetlands should also be developed, with a focus on budget allocation and the authority of different management parties, it said.
Source: VNS