VietNamNet Bridge – In Lai Chau, there is an ancient tea forest which might be the rarest, largest and unique in the world.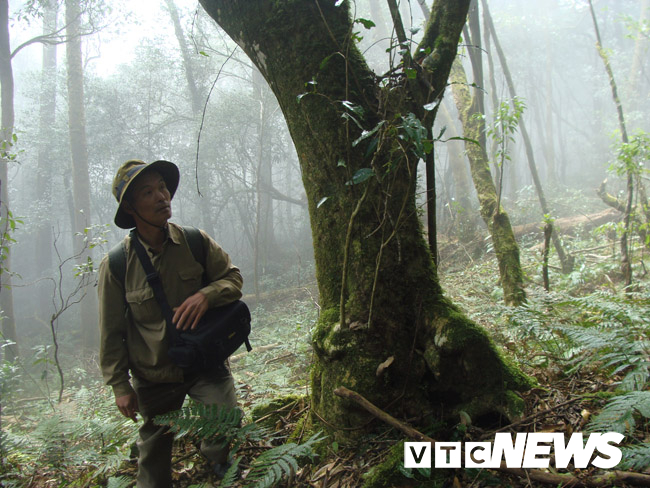 There is an ancient tea forest
Ten years ago, local newspapers made public a startling discovery about the existence of an ancient tea garden with trees thousands of years old, located 2,500 meters above sea water, at the base of Fansipan of Hoang Lien Son Mountains. 
Tran Ngoc Lam found the tea garden when he was looking for medicinal herbs in 2000.
Lam, who lived in China for many years and knows that the Chinese value ancient tea trees growing in the wild, decided to remain silent about his discovery.
Lam said he once led a Japanese man to the tea forest. When seeing the big ancient tea trees, he kneeled down on the ground and burst into tears of happiness. 
He decided not to climb to Fansipan top as initially planned, but set up a tent under the ancient trees, made tea and drank tea every day, enjoying life in nature for one week.
Only 10 years later, in 2010, did Lam reveal his secret about the tea forest. It is now under strict protection of forest rangers and serves as an attractive excursion point for travelers who come to conquer Fansipan mountain. 
In Lai Chau, there is an ancient tea forest which might be the rarest, largest and unique in the world.
Lam said that further from Lai Chau one can see countless old tea gardens, growing silently for millions of years, without any human footprint.
Lieutenant Colonel Bui Van Manh, head of the Vang Ma Chai Border Guard Station, pointing to Mount Phalan San San (also known as Khang Su Van), lying in the clouds, said: "I enjoy that tea, but I still cannot see tea gardens because of the long distance. It will take you several days to reach there."
A group of reporters climbed to Phan Lien San Mount at the height of 3,012 meters and found the ancient tea garden. This season, tea flowers have bloomed yellow and fallen to the ground, making it easier to find the trees. The reporters saw a vast population of ancient tea trees in the corner of the majestic forest of Hoang Lien Son.
RELATED NEWS
Vietnam's unique ancient Shan Tuyet tea forest in pictures
Top notch tea brews a highland recovery
Kim Chi