VietNamNet Bridge – Due to natural disasters in the first six months of 2018, seventy-five people have been killed or remain unaccounted for, while 48 others suffered injuries.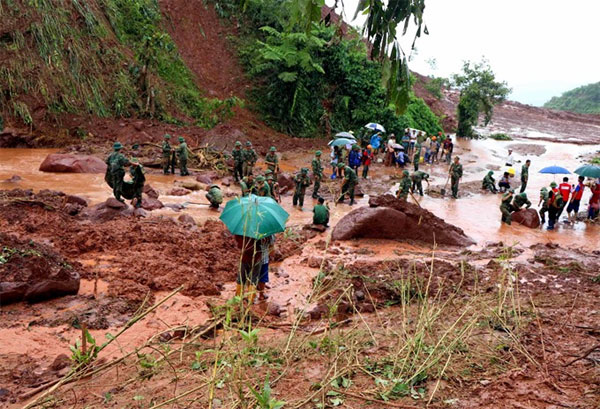 Police search for missing persons during the heavy downpour and subsequent landslides and floods in the northern province of Lai Chau last month. — VNA/VNS Photo Nguyen Quy Trung
Total economic damages reached VND868.5 billion (US$37.73 million).
The information was released during a meeting held yesterday by the Central Steering Committee on Natural Diasters to review the first half of the year.
According to the committee's report, a total of 14 types of natural disasters have occurred in the country, including two typhoons, two tropical depressions, 88 thunderstorms, seven flash floods, landslides, seven strong wind spells over the seas, four extreme cold spells and others.
In total, 509 houses have been destroyed while another 12,571 sustained damage.
Fifteen-thousand ha of rice and 1,700 ha of industrial plantation also suffered damages, while nearly 9,000 fowls and 17,000 cattle were killed due to natural disasters.
Minister of Agriculture and Rural Development Nguyen Xuan Cuong, head of the committee, said that the weather events in the first half of the year were abnormally extreme compared to the average statistics in the last 20 years, citing the "rare cases" of record rainfall in the northern region in June and 40-41 Celsius degree heat wave in the northern and central region in recent weeks.
According to the National Centre for Hydrometeorological Forecasting, in the remaining half of 2018, Vietnam can expect 12-13 typhoons, with at least four or five making landfall.
Several households across the country are still unable to move into their settlement domiciles, as the country is still reeling from the impacts of natural disasters last year and in first half of 2018.
Tran Quang Hoai, permanent member of the committee, requested that all concerned parties follow the Government's orders on natural disaster prevention and alleviation, which would see a focus on upgrading forecasting infrastructure and warning systems for those in high-risk areas.
Multiple-platform communications, including social media sites like Facebook, in addition to conventional methods like public speakers, TV, radio and websites will also be promoted to make sure that the public is aware of incoming threats in a timely manner.
Source: VNS