VietNamNet Bridge – Many things can change in 27 years, but time hasn't changed teacher Dang Thu Thao's charity class Phuoc Thien.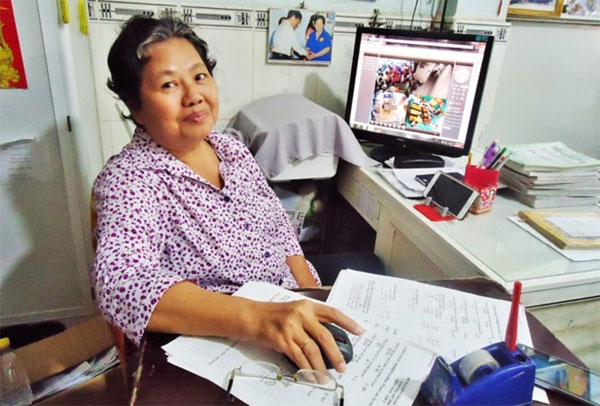 Teacher Dang Thu Thao. — VNS Photos Tran Nguyen Anh
Thao's hair is white now, but her love for teaching is as vibrant as ever.
The teacher said it was fate that led her to found the charity class 27 years ago.
"My house used to be in centre of Sai Gon and everything around was stable. Then when I moved to Nha Be District, many things changed," said Thao.
Many children living around Thao's house do not go to school, loitering in the area all day.
"I asked for permission from the local authority to open a charity class for local children, as long as I could teach them knowledge for primary school only, and would send them to real school for junior secondary knowledge. And I received agreement," said Thao.
Everybody call Thao's class the illiteracy elimination one. Several old people asked to enter the class, but she had to turn them down to keep room for children.
Thao said that when she was young, she planned to get married. But her fiancé had an accident and died after the engagement. Since then, she decided to live alone.
"His death made me very sad. Several other men asked to marry me later, but I refused because I'm afraid that a similar thing would happen," said Thao.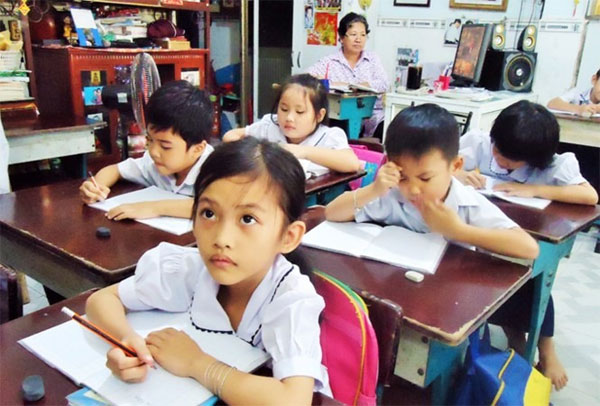 Students in the class.
Since then, Thao has devoted herself to the charity class.
She legally has adopted two children from the class, and sees others as her family members.
The children's parents are very poor, and work informally. They bring their children to Thao's as they struggle to afford school fees.
Tan Quy Primary School has been built in Nha Be District, but many poor people still send their children to Thao's class.
The children often write about their love for the class when they graduate.
One wrote, "Teacher Trang taught me grade four. She is severe, but thanks to her, we study well."
Thao uses her two-storey house for the Phuoc Thien class, and also set up a small restaurant and several rooms for rent.
"The students do not have to pay any fees. Their uniforms and meals are also free while teachers' salary is supported by funds from donors," said Thao.
Each teacher of the school is paid VND1.5 million (US$70) per month. Several poor teachers are supported with 10kg rice per month.
The school's expenses are extracted from funds that she could earned from the renting rooms and a small restaurant, according to teacher Thao.
Second generation teachers
Overcoming many difficulties, the charity class has existed for nearly 30 years.
The charity class used to receive some help from local donors, but the main efforts are put by Thao and other teachers, who dig deep for essential supplies.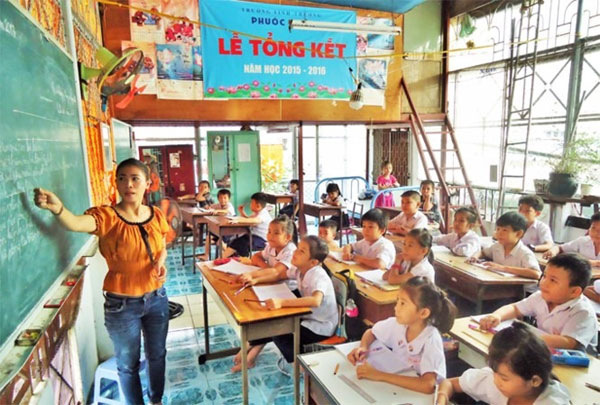 Hoa, a former student of the Phuoc  Thien School, is now a teacher here.
Statistics showed that in the 2016-17 school year, expenses for students' uniforms were more than VND9 million (US$400), textbooks were VND11 million ($490), students' meals were VND120 million ($5,300) and electricity and clean water were VND20 million ($890).
"I spend all the money I have from the small restaurant and rooms for rents for the children. I do not dare to relax a day," she said.
Thao is happy when the students grow up and study in local junior secondary schools and perform well.
"If any student has bad results, we are ready to teach them one more year. This will cost us some more, but I want that my students to have enough knowledge," said Thao.
One of her former students Thao is most proud of is Hoa, who has become a teacher at the school.
Hoa said, "I find that students in the Phuoc Thien School are much harder working than the ones in other schools. It is the motivation for us to continue our work."
VNS