Prime Minister Nguyen Xuan Phuc has urged the central and local agencies to focus their resources on developing the Vietnam National University – Hanoi, the Vietnam National University – Ho Chi Minh City and the University of Da Nang into prestigious centres for training human resources, for Vietnam's three key economic zones, ahead of the Fourth Industrial Revolution.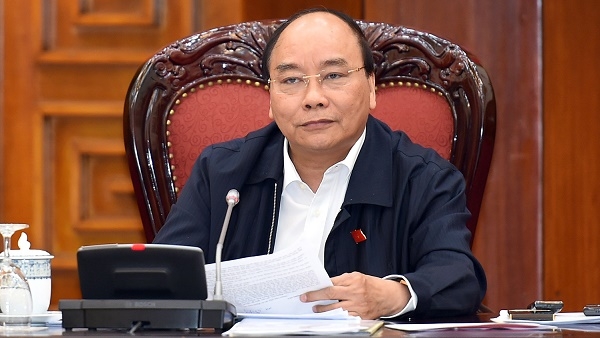 Prime Minister Nguyen Xuan Phuc speaks at the meeting. Photo: VGP
The PM made the request while chairing a meeting between the Government's Standing Board and the leaders of the three aforementioned universities, alongside a number of relevant ministries, sectors and localities, in Hanoi, on November 2.
The working session focused on removing any obstacles, concerning land clearance and capital arrangement, for the finalisation of infrastructure construction for the three universities in line with the already-approved projects, including the "University Village" project for the University of Da Nang (UD) and the "University Urban Area" project for the Vietnam National University – Hanoi (VNU-HN) and the Vietnam National University – Ho Chi Minh City (VNU-HCM).
Furthermore, the Standing Board of the Government also examined and dealt with a number of policies and mechanisms for the three universities, particularly the issue of university autonomy.
In his speech, PM Phuc emphasised the State's constant care for the development of the system of universities across the country, noting that the VNU-HN, the VNU-HCM and the UD are immediately prioritised to be strengthened as a regional university and two national universities.
Alongside the State's support, the three universities must uphold the spirit of autonomy, innovation and creativity, whilst proactively mobilising resources, possibly through non-State and public-private partnership (PPP) sources, to implement the projects, he said.
Directing land clearance work for the relevant projects, the PM asked the five localities involved in the projects of the three universities, to directly provide financial support for the people's resettlement and land clearance.
In that spirit, he assigned the Ministry of Planning and Investment, in collaboration with the Finance Ministry and localities, to consider compensation measures for land clearance and resettlement, before submitting them to the PM for decision, aiming to ensure clean ground for the three universities' projects.
Especially, PM Phuc noticed that the restructuring project on these three universities needs to be implemented in line with the general plan for the development of three international university urban areas in the Northern, Central and Southern regions, with the three universities as the centres.
High-quality tertiary education should be considered as a sustainable growth pole, he emphasised, asking the localities to provide support for these three universities, which he said, are the foundation and resources to develop high-tech parks.
The PM assigned the Ministry of Education and Training to work with the three universities on the piloting of several specific mechanisms for them.
 Nhan Dan