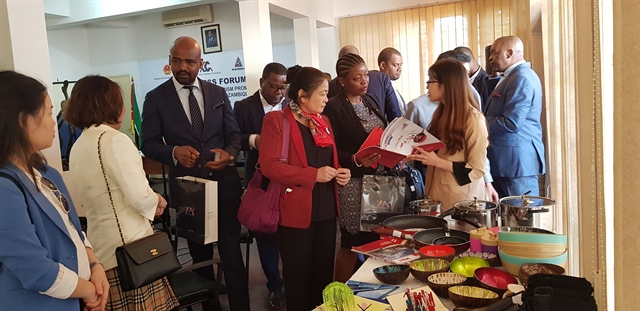 MAPUTO  The Vietnamese Government will continue to support the operation of businesses from Việt Nam in Mozambique to reinforce the bilateral partnership and capitalise on their potential and advantages, Vietnamese Ambassador to Mozambique Lê Huy Hoàng said.
The diplomat delivered this remark during a business forum held in Maputo, the capital of Mozambique, on Wednesday to seek stronger links in trade, investment and tourism between the two countries. The event lured more than 100 representatives of Vietnamese and Mozambican companies.
During the conference, director of the Hà Nội Department of Industry and Trade Lê Hồng Thăng briefed participants on the advantages of the Vietnamese capital city, including favourable policies, adequate transport infrastructure and human resources.
He also highlighted the municipal authorities' resolve to assist foreign enterprises in economic, investment and trade co-operation.
In his speech at the event, Mozambican Deputy Minister of Industry and Trade Julio Joao Pio praised the recent strides in bilateral relations including the fruitful investment of Movitel – a joint venture worth more than US$600 million of the Vietnamese telecom group Viettel in the African nation.
He called on the two countries to bolster economic, trade and investment ties, encouraging Vietnamese firms, including those from Hà Nội, to invest in his country in agriculture, farm produce processing and mining.
Also at the event, Vietnamese and Mozambique businesses explored partnership opportunities. Many of them expressed their hope the countries will soon sign a double taxation avoidance agreement and financial-banking deals to help protect the rights of enterprises.
Meanwhile, Vietnamese firms introduced Vietnamese goods that are in demand in Mozambique like agricultural products, handicrafts, apparel, wood products and building materials. — VNS