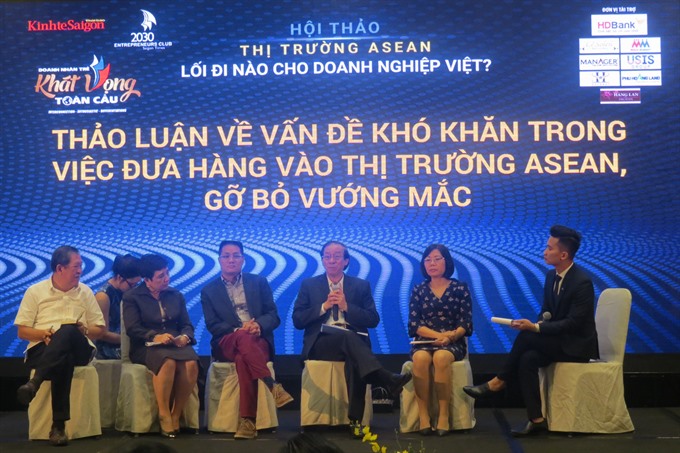 A conference on exporting to ASEAN member countries being held in HCM City yesterday. – VNA/VNS Photo Việt Dũng
Viet Nam News
HCM CITY – Since the establishment of the ASEAN Economic Community, and the abolition of tariffs within the bloc, Việt Nam's exports to other members remain limited, a conference heard in HCM City on Wednesday.
Nguyễn Thị Tuệ Anh, deputy director of the Central Institute for Economic Management, said ASEAN economies have a combined population of around 660 million and high economic growth, and Vietnamese firms now have greater opportunities than ever to export to them.
But while Việt Nam's imports from ASEAN countries have increased sharply since 2015, its exports to the highly competitive markets have not.
Phạm Thanh Kiên, director of the HCM City Department of Industry and Trade, said the city's exports to ASEAN members are rising but imports are rising faster, and, at $8.15 billion last year, were 2.6 times its exports.
Phạm Thiết Hoà, director of the HCM City Investment, Trade and Promotion Centre, said the reasons for the limited exports to ASEAN markets are lack of product diversity, uncompetitive prices, limited distribution system, and lack of co-ordination with trade facilitation authorities.
Firms need to better research the requirements for exporting to these markets, learn the culture of their target markets and pay attention to business decisions such as working with foreign business partners and packaging, especially in Islamic countries, he added.
Kiên said besides improving their production capabilities, firms need to do extensive market research, look for new trade opportunities and network with trustworthy local distributors.
Vũ Thế Hoàng, assistant to chairman at the Việt Nam Seaculture Association, said authorities and business groups should provide firms with information about the latest development in these markets.
The conference was held by Saigon Times newspaper and Saigon Times Club's 2030 Business Club, and attended by executives from around 300 firms. – VNS