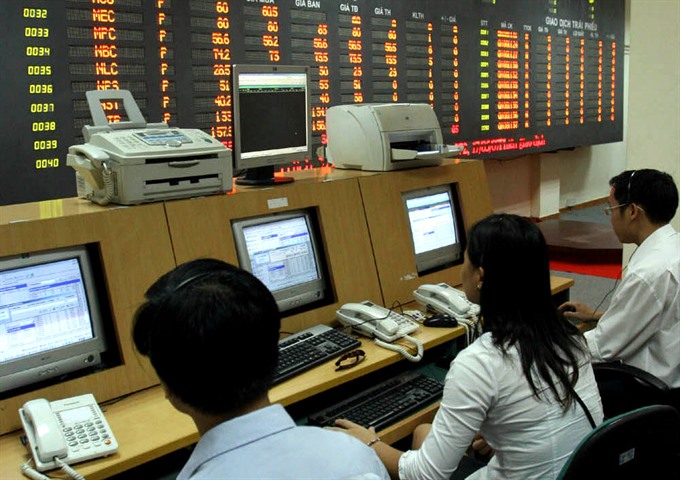 Officials at Hà Nội Stock Exchange monitors trading orders. — VNA/VNS Photo Phạm Hậu
Viet Nam News
HÀ NỘI — Vietnamese shares slipped on Thursday as foreign investors struck a large net sell value after the US central bank raised interest rates and signaled more hikes to come this year.
The benchmark VN Index on the HCM Stock Exchange lost 1.44 per cent to close at 1,015.72 points. It gained 0.96 per cent on Wednesday.
The HNX Index on the Hà Nội Stock Exchange dropped 1.50 per cent to end at 114.91 points, reversing from a 0.15 per cent growth made in the previous day.
Some VNĐ5.1 trillion (US$227.4 million) worth of more than 206.7 million shares was traded on the two local exchanges, up 17.4 per cent in value and 35.5 per cent in volume compared to the day before.
Foreign investors on Thursday remained net sellers, striking a total net sale value of VNĐ660 billion and focusing on large-cap stocks such as property developer Vingroup (VIC), steel producer Hòa Phát (HPG), Sacombank (STB) and Bank for Investment and Development of Việt Nam (BID).
That could be considered a response from foreign investors to the latest rate hike made by the US central bank on Wednesday (local time), in which lending rates were raised by 25 percentage points to 1.5-2 per cent range. The Fed also signaled two more rate hikes to come in 2018.
"The market fears that faster pace of rate hikes could indicate faster pace of monetary tightening," Bảo Việt Securities Company (BVSC) said in its daily report.
"Bascially, the signal of two additional Fed rate hikes in 2018 is not good news for the stock market in the short term."
Strong foreign selling sent large-cap stocks down in the VN30 basket and made the VN30 Index fall 1.40 per cent to 1,004.31 points at the end of the day with 21 of the 30 largest companies by market capitalisation suffering.
Among decliners in the VN30 basket were the four stocks mentioned above, plus Saigon Securities Inc (SSI), insuran-finance group Bảo Việt Holdings (BVH), MBBank (MBB), Vietcombank (VCB), PetroVietnam Gas (GAS) and budget carrier Vietjet (VJC).
Meanwhile, cash-flow switched to target mid-cap and small-cap stocks such as Hoàng Anh Gia Lai (HAG) and HAGL Agrico (HNG), which had released positive business news. The two agriculture stocks jumped 3.6 per cent and 5.6 per cent.
On Friday, investors will re-direct their focus on the portfolio reviews of two exchange-traded funds (ETFs), according to BVSC. "Investors are cautious with fears about a market's tumble in the review session of the two ETFs tomorrow."
The VN Index will likely undertake strong volatility on Friday following the portfolio reviews and extend its losses further, BVSC forecast. — VNS