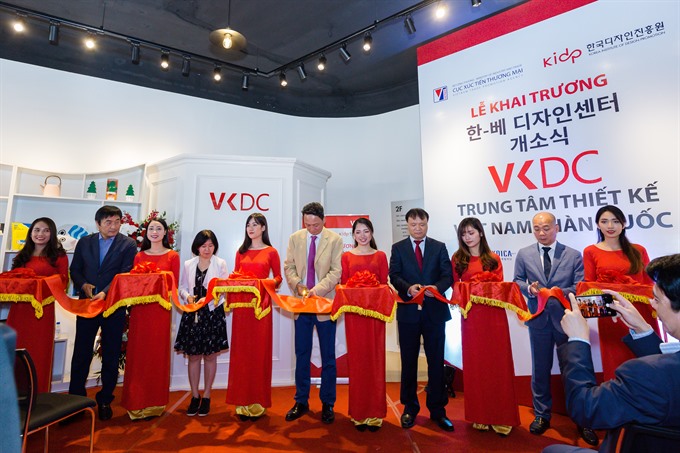 Participants cut the ribbon at the launching ceremony of the Việt Nam-Korea Design Center (VKDC) held in Hà Nội on Friday. — Photo courtesy of VIETRADE
Viet Nam News
HÀ NỘI — A wide range of services related to corporate design and branding will be provided by the Việt Nam-Korea Design Center (VKDC), launched in Hà Nội on Friday.
The centre, located at 17 Yết Kiêu, Hai Bà Trưng District, was established under the joint effort of the Vietnam Trade Promotion Agency (VIETRADE) under the Ministry of Industry and Trade and the Korea Institute of Design Promotion (KIDP) under the country's Ministry of Trade, Industry and Energy, within the framework of the project "The enhancement of Vietnamese handicraft industry".
It is also the result of co-operation between VIETRADE and KIDP from 2010 under the Asia Design Sharing Program initiated by the Republic of Korea.
At the opening ceremony, Deputy Minister of Industry and Trade Đỗ Thắng Hải said that creative design is crucial to the economic development of a country.
"South Korea is a typical country, a model in the region and in the world where economic and social development are associated with the growth of an innovative design industry with well-known global brands such as Samsung, LG and Hyundai," Hải said.
"We believe that the Việt Nam-Korea Design Center will be a meaningful co-operation between the two countries, supporting the Vietnamese design industry as well as helping the Vietnamese business community renovate step by step, improving product design and branding, thereby boosting exports to meet the demand of the global markets," said Hải.
The centre would organise regular activities such as conferences, seminars, training courses and dissemination of knowledge on product design for businesses to help them develop product design and branding thus enhancing the value added for Vietnamese products, said Vũ Bá Phú, director of VIETRADE.
"The centre would be a working place for sharing experiences and exchanging ideas between Vietnamese and Korean designers, providing practical support to businesses. At the same time, the centre would co-ordinates with specialised colleges to provide training for young and talented designers to meet the increasing demand of enterprises," Phú said. — VNS